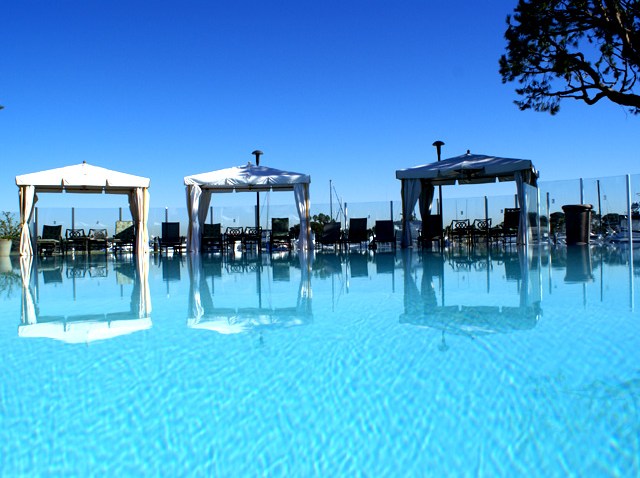 In America's Finest City, there are several places to choose from.
Recently, we chose The Dana in Mission Bay. Located in the heart of Mission Bay and with amenities such as kayak, boat and jet ski rentals, and dining at Firefly, you don't have to leave the grounds. Another bonus, Sea World is so close (hotel map says 15 minutes) you can walk there.
If a visit to Sea World is on your list of things to do, I suggest using the money you saved on parking for buying fish to feed the dolphins!
Upon our arrival, we were immediately greeted by their friendly staff and given directions to our room. We were pleased to find that the majority of their rooms had parking spaces right in front of them.
The rooms have been recently updated with stone tile walls in the bathroom and flat screen TVs. For those that like to keep some snacks and beverages on hand, there is a refrigerator, microwave and coffee maker for your convenience. Our room had a patio and it was the best thing about it.
To say the view was spectacular is an understatement. You would think being a San Diego native, I would get used to how beautiful Mission Bay is. Apparently this is never going to happen.
From morning sunrises to evening sunsets, there isn't a better place to be than your patio. You can actually see the colors on the water change as the sun rises and sets.
This is one of the great things about a staycation, you see San Diego in a different perspective due to the unique view that you do not see when you are out and about in your hometown.
Overlooking the pool and boat slips you will find the restaurant Firefly. With an eclectic menu, you are bound to find something to your liking. They do have inside seating, but the decision to take advantage of the view from their patio with the warm weather was an easy one. I know we have the cooler months ahead of us, but don't worry, the patio is heated.
We started our dinner with an order of mussels. They are cooked with garlic and a serrano pepper butter sauce and served with lemon pugliese toast. The mussels were delicious and a perfect appetizer for our upcoming meal.
For her entree, my wife selected the Butter Poached Lobster served with porcini linguini. I opted for the Peppercorn Mignon. An 8 oz filet with a bleu cheese crust, served with a potato gratin, haricots verts and a demi glace.
Both of our meals were delicious and combined with the view, is a meal we will not forget. The lobster and linguini were cooked perfectly and my filet was so good I have been talking about it since I left.
With Happy Hour specials Monday through Friday, I plan on going back just to enjoy a glass of wine and the view once again. I may even have to order the Filet Mignon. Specifically if I am there on Sundays when they offer $5 glasses of select wines. It's hard to beat a nice glass of red wine and steak.
We ended our meal with a crème brulee and chili chocolate cake w/ hazelnut gelato. I have to admit, the best thing about eating dinner with someone is you get to share desserts. Of course this only applies if they ordered a better dessert than you.
So, how were they? My issue with crème brulee is the layer of caramelized sugar on most is not thick enough. This is not the case at Firefly. This had to be one of the best crème brulees I have ever had.
Just when I thought I was going to explode from over indulgence, I reached for the cake and some gelato. Simply amazing is the best way to describe it. Fortunately, the cake is flourless, making it lighter than regular cakes and a lot easier to eat more than you really can. I am crediting the lack of flour for me not exploding.
One bad thing I have to mention. Now I have to buy new pillows because since I have experienced the down pillows at The Dana, mine at home feel like slabs of concrete. I guess this isn't a bad thing. Now I'll sleep better at home, just like I did during my stay at The Dana.