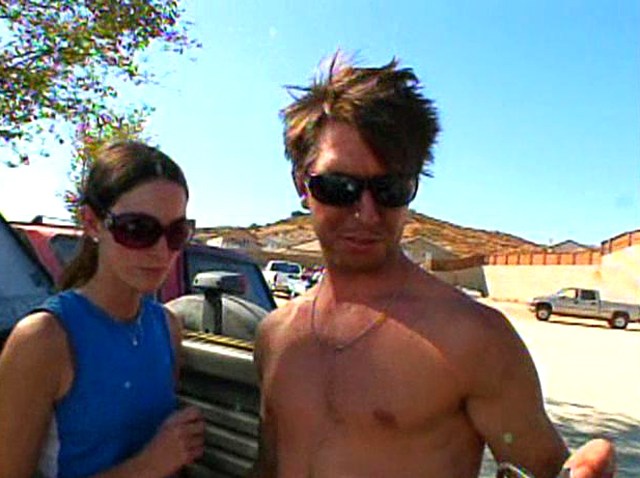 Convinced they were moments away from death, Andre Doria and Meg Rippy had to say a quick goodbye.
The two mountain climbers were stranded on El Capitan Mountain on Saturday afternoon as fire and thick black smoke surrounded them, and the rescue helicopter coming to save them could only fit two people.
"I wanted her to get saved first," Doria said on Thursday, as the two recounted their dramatic rescue. "And when she got in first, I remember this great sense of relief when she took off, and I can see right now, when the chopper took off, her blowing me a kiss."
Doria and Rippy finally had a chance to thank their rescuers first-hand on Thursday at a news conference at Gillespie Field in El Cajon.
"We realize we are very lucky to be here, and we are very lucky to have the opportunity to come here and thank our rescuers," Rippy said. "You are our heroes. You saved our lives and we thank you so much."
Hours after the news conference, Cal Fire officials said what became known as the Monte Fire was started by two juveniles playing with fire. Investigators did not say if the juveniles were arrested or if their families will have to pay any restitution.
The fire was reported Saturday around 1 p.m. and eventually burned 926 acres.
Doria and Rippy started their climb about 8 a.m. They decided to take a lunch break around 12:30, when they began to see smoke and realized the fire was coming up the hillside. They quickly called 911.
As the smoke thickened, both climbers said, they could hear the rescue helicopter but not see it.
"The biggest moment of fear was realizing we're surrounded by fire and they can't see us," said Rippy.
ASTREA pilot Scott Bligh said he could feel the heat and his eyes beginning to burn.
"It was a wake-up call when the embers started coming through the cockpit," said Bligh.
Once the chopper It was decided that Rippy would be rescued first, with Deputy Gary Kneeshaw and Doria waiting behind.
After Rippy was out of harms way, Bligh returned to the hillside to pickup up Doria and Kneeshaw. The flames were about 20 feet away when the pair was scooped up, with Kneeshaw holding on to the side of the chopper while stepping on the chopper's landing skid.
Kneeshaw shared credit for the rescue with Cal Fire. In fact, he said, three days earlier, he was part of a training exercise that paid off.
"We were fortunate enough to receive training from our Cal Fire partners on fire behavior, fire safety, emergency situations, including fire-over run," Kneeshaw said. "Five years ago, these rock climbers would have died."
This map of the area that burned was provided by the U.S. Forest Service.
Get Breaking SMS Alerts: Be the first to know when news breaks:
Text SDBREAKING to 622339