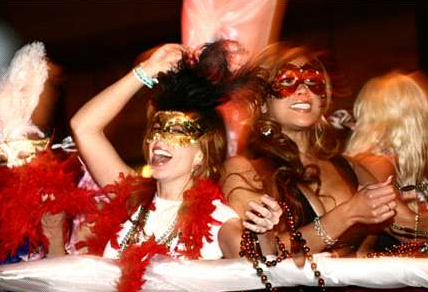 We are winding down the week and people are thinking about their weekend plans. Check out ShindyTV.com's "High Five" spots to be this weekend.
Number 1:

Who: MoPA's Pop Thursday

What: Hit the streets of San Francisco for the greatest car chase of all time. Catch movie classic Bullitt projected on the museum wall, starring cool guy Steve McQueen, in MoPA's theater or from the bar. Grab a drink. Take in the art. Snap a portrait in one of MoPA's antique photo booths. This event is free if you are a MoPA member and only $6.00 if you aren't. Theater seating is provided on a first come, first serve basis

When: Thursday, 7 p.m. - 10 p.m.

Where: 1649 El Prado, San Diego, CA - (619) 238-7559

Web: popthursdays.com


Number 2:

Who: Dakota Grill Celebrates 16th Anniversary

What: Cohn Restaurant Group celebrates their Dakota Grill's 16th Birthday. Sixteen is the magic number for everything! Choose from a selection of their signature dinner entrees, a variety of bottled wines, and lunch for two for the special price of $16. And no birthday celebration would be complete without a selection of $5 martinis to complement your meal. Enjoy a special cocktail party with hosted appetizers 6pm-7pm and live music featuring Sheila Sondergard from 7pm-10pm. Come be a part of the celebration at Dakota Grill & Spirits, one of the Gaslamp Quarter's favorite destinations for 16 sweet years.

When: Thursday, 6 p.m. -10 p.m.

Where: Dakota Grill & Spirits, 901 5th Ave, San Diego, CA. (619) 234-5554

Web: cohnrestaurants.com


Number 3:

Who: Sushi Art Presents Tere O'Connor Dance "Rammed Earth"

What: "Rammed Earth" is a 60-minute piece designed for a limited audience of 50 people per performance. It explores architecture as a fundamental, subliminal force in the choreographic form as well as in human experience. O'Connor's interest in "sentient architecture" in which structures change form in response to temperature, climate or human activity, is a catalyst for this wor. Audience members are incorporated into the expanding, contracting, liquid space of the work, as they are escorted into different viewing positions throughout the performance.

When:
Thursday, @ 8 p.m.
Friday, @ 7 p.m. & 9p.m.
Saturday @ 7 p.m. & 9 p.m.
Sunday @ 7 p.m.

Where: 390 Eleventh Avenue, San Diego, CA 92101. (619) 235-8466

Web: sushiart.org

Number 4:

Who: Little Italy's Carnevale

What: The Little Italy Association and the Italian Board of Tourism made San Diego's Little Italy come alive in 2008 with the 5th Annual Little Italy Carnevale, drawing over 15,000 attendees. This event mirrors Carnevale in Venice with various vignettes of entertainment, a costume competition at the Piazza Basilone, an Italy for Life Hospitality Tour on Date Street, a Passaporto di Carnevale local business tour and social gatherings. The Passaporto di Carnevale takes you on a stroll throughout Little Italy and introduces you to over 21 participating businesses while festivities take place all around you.

When: Saturday, 5 p.m. -10 p.m.

Where: India & Fir street

Web: littleitalysd.com


Number 5:

Who: Amgen Tour of California Cycling Race Finale & Lifestyle Festival

What: The Lifestyle Festival, which is located near the finish line at the final leg of this year's Cycling Tour of California, is the place to be for all cycling enthusiasts. There is no better place to experience the spectacle of race day than at the Lifestyle Festival. The festival will feature a health & fitness expo, cancer awareness education, cycling gear, family activities, bike safety, food, entertainment and more! There will be plenty to see and do for everyone in your family! Keep your eyes peeled for all of the cyclists hustling to the finish line. And who knows? You might even see Lance Armstrong!

When: Sunday, 1 p.m. - 5 p.m.

Where: Grand and Broadway, near 360 North Escondido Blvd
Escondido CA 92025

Web: amgentourofcalifornia.com

For bonus events, including live music and Mardi Gras, visit ShindyTV.com.