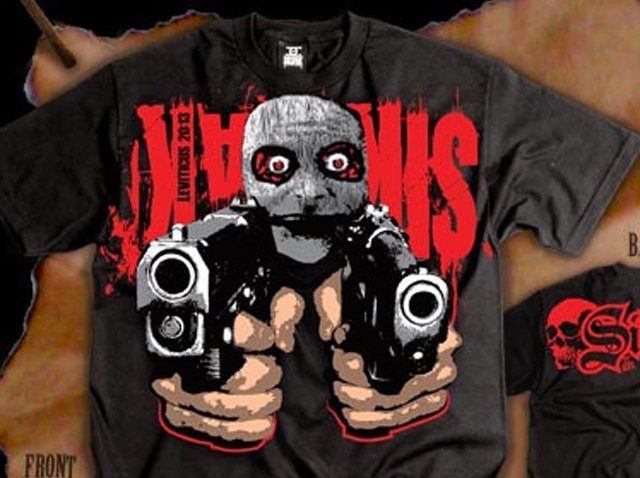 In Ocean Beach, a community known for its independent and laid-back lifestyle, a logo was born that would ultimately spark a line of clothing bearing markings similar to those known worldwide as symbols of hate.
Among the items are T-shirts, hats, sweatshirts and motorcycle stickers showing Confederate flags and Bible verses condemning homosexuality.
Talk with the folks behind the company SikSpak, and they'll tell you the logo and other products from the graphics and clothing company are simply "attention grabbing."
On its Web site, SikSpak explains how its logo, which appears to be similar to "SS" tattoos worn by many white supremacists, was born in OB.
Founder Eli Bowman was playing a game of horseshoes, the company Web site recalls, when his opponent threw a six-pack. The horseshoes created what Bowman considered "a sick logo."
He took that logo and created a line of graphics, stickers and, eventually, clothing, releasing a line for women in 2009.
"SikSpak is not only a brand, it is an idea that allows people to think and be themselves again," according to the company's site.
A company spokesperson, who did not want to be identified by name, compared the SikSpak logo to that of the rock band Kiss.
"You can read into any graphic," said the spokesperson. "There are no sort of implications of hate in any way whatsoever."
According to the company's 2009 catalog, customers can think and be themselves by wearing the images that resembles the Nazi warbird and reference "A.C.A.B.," which, according to a California band, Extreme Hatred, stands for "All Cops Are Bastards."
In response to the warbird comparison, the company spokesperson asked, "What about the Federal Reserve eagles?"
When asked why the one shirt includes a Bible verse known to condemn homosexuality, he said people who don't like it should "take it up with their church."
"Controversy stirs things up," he said. "People can take it any way they want."
The company offers products only online, not in any stores, and aligns itself with the motocross lifestyle.
As for the gear, "People like them because they dig the style and they are edgy," according to the company spokesperson.
Let us know what you think. Comment below, send us your thoughts via Twitter @nbcsandiego or add your comment to our Facebook page.