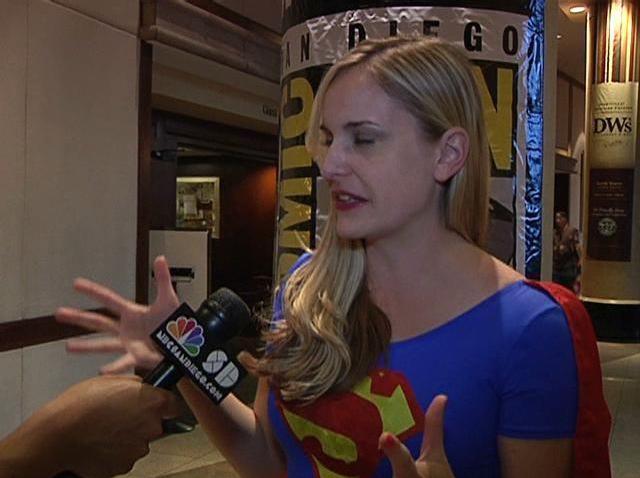 She's a chameleon of sorts. She can transform. A Jedi, Supergirl, Alice in Wonderland-- she could be anyone.
Today, Jennifer Harmston is Supergirl. Harmston is Comic-Con "veteran" having been a visitor every year since 2003, she's become sort of an expert at making her own costumes.
Don't be fooled, costume making is a serious business.
"To make this one, it probably took a total of about ten hours... I was walking around the store with red boots and a blue leotard going 'okay, what are Superman/Supergirl colors' I'm sure they thought I was totally, completely insane."
Putting the "S" on the front of her costume wasn't easy either she explains, "it was a very long process involving a towel and an iron so that it would be on properly while I'm wearing it... I might've burned myself a few times."
Harmston's interest in science fiction and fantasy was inspired early on by reading bedtime stories with her father. Books by Anne McCaffrey and Hugh Lofting and films like "The Princess Bride" and "Star Wars" were a strong influence growing up.
She is one of many females who visit Comic-Con regularly and is changing how outsiders view women at the event. There are attractive, charming, confident women, who aren't necessarily racy at Comic-Con.
Many see Comic-Con as a place for the nerd purists, Harmston insists, "that people come to realize that Comic-Con is not just about sweaty, nerdy comic book boys who sit in their mom's basement and read comics all day and have never talked to anybody outside their social clique. It's a lot more pop culture than that; it's a lot more fun. It's a family event now, it's a broad group of people. It's everybody and it's anybody."
Even as Con continues to grow exponentially, bursting at its seams, she finds herself coming back, "I get to dress up and I get to become these characters that I read about. I get to be that character for a day and that's what so much fun for me; to become Supergirl or to become Alice or a Jedi or to become whatever other crazy idea we're gonna come up with next year, that's the fun part for me, that's why I like to Comic-Con and I like to dress up to do it... it's a work of love."