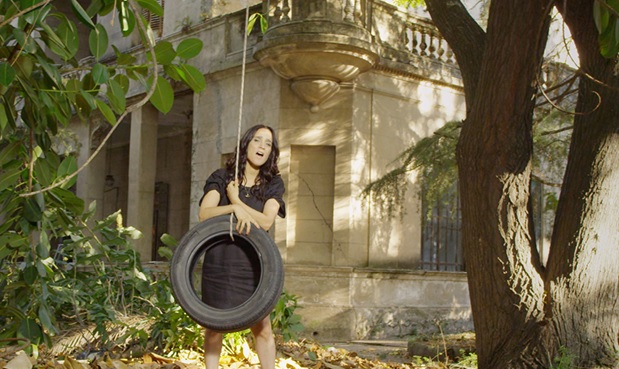 It may have been two years since Julieta Venegas' "Los Momentos," but it's pretty safe to say her not-yet-released highly anticipated eighth studio album, "Algo Sucede," will be a Grammy contender alongside releases from mega stars Maná, Juanes and Pitbull.
The queen of alt-Latino represents Baja California very well in this mature but playfully honest 12-track album, which debuts on August 14. On Wednesday, July 29, Venegas world-premiered songs from "Algo Sucede" at her concert in Miami.
Directed by Venegas, the "Ese Camino" official music video shines bright with a cast of children playing in a rustic mansion. The Long Beach-born, Tijuana-raised musician's body language hints a masterful swag as she is adorned by her signature accordion. And it's plain to see the music video paints a vivid portrait of the joys of childhood nostalgia and parenthood.
Inspired by her time in both Mexico and California, Venegas continues to showcase the rhythms that have developed throughout her career, ranging from classic pop to alternative rock. One Grammy, five Latin Grammys and five MTV Latino Awards later, Venegas is back on stage to bring her fans the ultimate worldwide comeback tour, titled after her forthcoming album, including two San Diego stops on September 18 and 19 at Music Box (formerly Anthology).
Julieta Venegas' new album, "Algo Sucede," is now available for pre-sale and download on iTunes and in other digital stores before the worldwide all-format launch on August 14.
For the latest in Julieta Vengas news, like her on Facebook. Watch "Ese Camino" here or get Venegas concert tickets here.

Dita Quinones is a multimedia journalist born in Tijuana with a passion for Latin alternative and hip-hop music news. Her main goal is to uplift and inform so that the Latino, Filipino and hip-hop community get knitted into the fabric of American history. In addition to SoundDiego, she contributes to Latina, Fox News Latino, Poder, VidaVibrante, San Diego CityBeat and HipHopDx. She is also the founder of the infamous music and politrix blog GN$F! Follow Dita on Twitter or on Facebook.