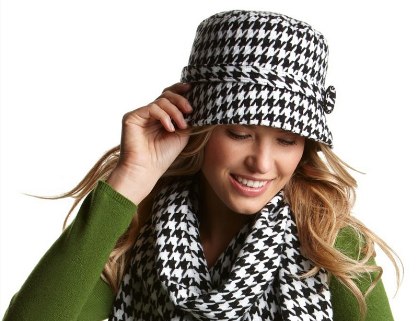 LIVING COLOR: A shock of color on top can look surprising and fresh. The copper Wool Herringbone Bucket Hat at J. Crew ($34.50) is bright enough to be different but sane enough to go with everything. For the less adventurous, it also comes in black, olive and butterscotch.

RAIN BUCKET: When umbrellas are too much trouble, slip on the Jeanne Simmons Rain Bucket hat at The Village Hat Shop ($19). The faux crock leather and wide, low brim keep your head and neck dry and you're style in tact.

PRINTED PAIR: A classic print on a classic hat, plus a matching scarf? The David & Young Houndstooth Bucket Hat ($24) at Macy's is almost cute overload, but the crisp black and white style ends up looking classy and pulled together.

SWEET KNIT: Flowers and fringe turn a topper into a show-stopper. The Anthropologie Newspaper Bucket Hat ($38) is a prime example with its chunky white knit and simple silhouette.