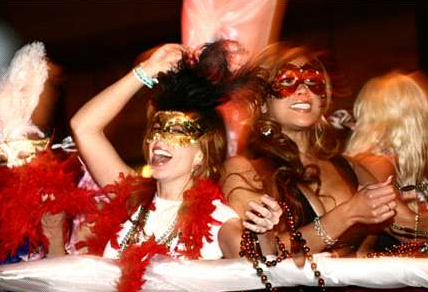 Saturday

6th Annual Little Italy Carnevale
The Little Italy Association proudly presents Carnevale, a century old Venetian Ball featuring various vignettes of entertainment, costumes, masks, live music and merriment.

Cash'd Out Sara Petite And Pushin Rope With DJ Gonzo Presented By JohnnyCash.com Look For Chad There!
An authentic tribute to the Man in Black, Johnny Cash. Cash'd Out celebrates Johnny Cash's birthday and the 40th anniversary of Live at San Quentin!

Brazil Carnaval 2009
At the 4th and B Theatre.

Sycuan Presents Reverend Horton Heat With Manic Hispanic
The Reverend Horton Heat is perhaps the most popular psychobilly artist of all time, really rivaled only by genre founders--The Cramps.

Fischerspooner
Also Featuring DJ's X-Ray bangin out all your favorite hip-hop club hits in "The Karma Lounge" Kingsley playing your top 40, R&B and a lil bit of everything in "The Gallery Bar" Kenso playing 80's and new wave music all night.

Souls of Mischief
The East Oakland backpacker crew are members of the loose underground hip-hop consortium known as Hieroglyphics. The group consists of four erudite but hardcore MCs: A-Plus, Phesto, Opio and Tajai.

Kingdom
A West Coast psychedelic band in the heavy Iron Butterfly tradition, Kingdom combined hard guitar riffing, dramatic organ sounds, prog rock soloing, and gruff vocals from the group's frontman, organist and guitarist Jim Potkey.

Eleni Mandell
Special early show at 7pm. The first time Eleni Mandell worked with DJ Bonebrake (drummer for X), which was a teenage dream, she said "X is the reason I'm playing music" and he responded "I feel like I should apologize".

Scarlet Symphony
Get a free CD!? How cool is that!

After Midnight Project
Live performance by After Midnight Project at SOMA.

Pensive
Pensive is a Rock/Alternative band from San Diego, California who have staked their claim on future rock stardom. They are currently making their way across the U.S. on the 'Snow-Phobic' tour.

American Hustler
Watch 30 rappers compete for $200 cash. Also, a one-hour photo shoot and cd duplication. Admission $7.00.

Sky Sushi
Come join us for a night of music and fresh sushi til' 2 a.m.! This is best place to meet up with friend in a lounge atmostphere.

Gypsy Fusion Flamenco
Dance the night away!

Future Featuring DJ ZAD
Saturday at Minus One Ultra Lounge. Get in the mix with DJ/ Producer and Remix artist ZAD. Plus, watch a special broadcast of Future Mix electronic music television.

Dobson's Bar & Restaurant
Come for happy hour.

Sabado En Fuego
Noche Latino Americano at the Brass Rail.

Groove Sessions
The Best of yester-year's dance, funk, soul & rock n' roll mixed in with today hottest hits. DJ Tony Aguilera and the San Diego Mixmasters spin you 'round the dance floor while you enjoy the company of your best friends!