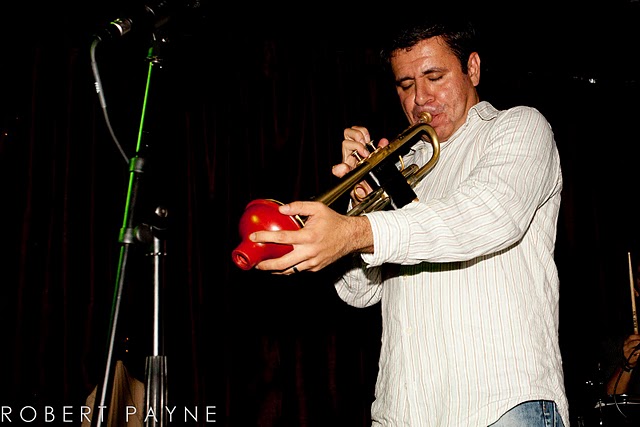 Here at SoundDiego, we're a tight-knit crew. Our staff is made up of a group of people who truly care about local music and our community, and we do what we can to support our city's scene and one another in our various creative endeavors, whatever they may be.
So when our acclaimed jazz writer, Robert Bush, recently suffered a stroke, we were shaken gravely by the thought that we'd almost lost a friend, as well as a vital and beloved part of our group. Luckily, he made it through (with the help of friends and family), and he's on the road to recovery. Problem is, that road is usually a long one -- and it's expensive. Anyone that's had to pay extensive medical bills can attest to the difficulty and the stress it adds to daily life.
Fortunately, the local jazz community is a supportive one -- and a group of stellar players have banded together to host a benefit concert/jam session at Panama 66 for Robert Bush on Sunday, Sept. 13. The musicians scheduled to play include Gilbert Castellanos, Rob Thorsen, Joshua White, Duncan Moore, Besos de Coco (Lorraine Castellanos, Evona Wascinski and Claudia Gomez), Holly Hofmann, Robert Dove, Lori Bell and Mike Wofford, among others.
The lineup is a veritable who's who in the jazz scene, and if you're familiar with Bush's poetic articles, you should also be familiar with those names. All indications point to a litany of special guests joining the stage throughout the evening as well.
According to Gilbert Castellanos, the benefit's primary organizer, choosing to help his friend was a no-brainer.
"Robert, in my humble opinion, is one of the most respected writers when it comes to jazz -- especially with musicians worldwide," Castellanos said. "He is an asset to our community, a walking encyclopedia of music. Not only do I admire his work, but I'm honored to call him my friend."
The benefit is scheduled to start around 4 p.m. at Balboa Park's Panama 66 (1450 El Prado, across from the San Diego Museum of Art), and will continue until 7 p.m. While it is free to attend, donations are recommended and appreciated -- as all funds raised will go toward Bush's medical/living expenses during this difficult time.
Since he is inarguably one of the greatest writers around, let's turn the mic over to the man himself:
"Frankly I'm overwhelmed by the support I've received from the jazz community," Bush wrote to me in an email. "From the very beginning, there were people who came to visit me in the hospital -- not just friends and family, but folks like Joshua White, who brought a portable record player to help me while away the downtime in between what seemed like a million tests, and Bonnie Wright, who insisted I go to the hospital in the first place.
"From there on out, everyone has been super supportive, from phone calls to people bringing me food and groceries. There are so many people to thank, including Rob Thorsen and Mark Dresser and the Weller family, Mike Wofford and Holly Hofmann, Diane Moser, all of whom helped me survive."
It turns out the idea for the benefit was hardly a thought in Bush's mind before it was conceived and planned out by his friends in the jazz community.
"Gilbert Castellanos called me up when I was really struggling," Bush explained, "and said, 'What can I do to help?' He came up with the idea of the benefit without even being asked. It took some time to organize it around everyone's schedule, but I cannot come close to expressing how grateful I am to see how many people have volunteered their time and talent to make this thing happen … I'm humbled by the attention, even as I'm embarrassed to be in the spotlight. I've always preferred to focus on the accomplishments of others, so this will have a certain surreal element for sure."
When asked about his current health, and what kind of challenges he faces every day, Bush offered a very hopeful prognosis.
"I'm feeling much better these days. When I first got out of the hospital, being able to scrawl a simple sentence represented an enormous challenge, and on top of that, I had multiple physical issues to deal with. I started writing as soon as I got back home, as much for therapy as anything else. After an initial struggle, I believe I'm getting better every day. It's a lot of work. Physically, I'm in much better condition -- this was a wake up call, and I'm trying to take it very seriously and make the most out of the second chance I've been given."
We're glad to hear it, Robert. Onward and upward, my friend.
The Benefit Concert/Jam Session For Robert Bush hosted by Gilbert Castellanos (and featuring some of San Diego's finest musicians) takes place at 4 p.m. on Sunday, Sept. 13, at Panama 66 in Balboa Park. Admission is free but donations are very welcome.
Tax free donations are also being accepted at the Fresh Sound website.

Dustin Lothspeich plays in Old Tiger, Diamond Lakes, Chess Wars and Boy King. Follow his updates on Twitter or contact him directly.