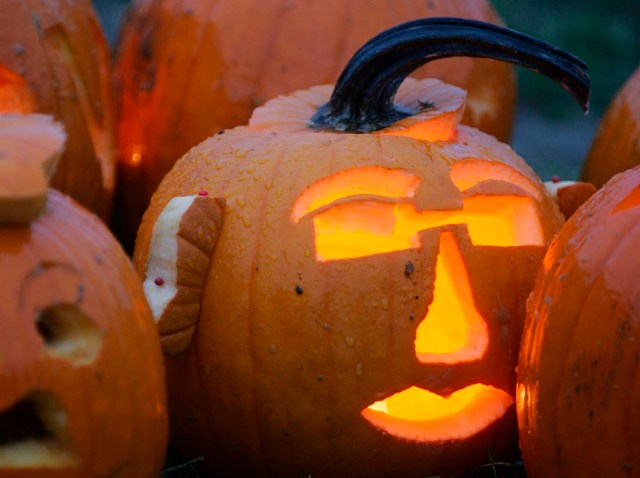 TRICK-OR-TREAT ON MAGIC STREET: The 3rd Annual Magic 92.5 "Trick or Treat on Magic Street" is San Diego's biggest safe Halloween Trick-or-Treat event. They'll have pumpkins and potions, spiders and spirits, and best of all… free treats for everyone. Enjoy Family Fun Activities and a Costume Contest Parade. From 3 to 7 p.m. starts the on-site costume registration/check-in. 5 p.m. Trick or Treating begins. 5 – 6:30 p.m. is Jagger & Kristi's Halloween Pet Costume Contest, and at 7:30 p.m. the costume parade begins! The event is being held at Otay Ranch Town Center in Chula Vista and ends at 9. For more information click here.
PUMPKIN CARVING CONTEST: Don't miss this fun event! Ocean Enterprises 30th Annual Pumpkin Carving Contest welcomes divers and non-divers to demonstrate their pumpkin craving abilities! Prize are given for the most creative carved creations. The event will be from 8 a.m. to noon at the La Jolla Shores (near the flagpole). There is a $20 entry fee, which included BBQ lunch with Werner (Proceeds got to Breast Cancer Research). Bring your own uncarved pumpkin, carving tools, and costumes (that's optional). Click here for more information on this event.
FREE YOGURT HOUR: Join Tutti Frutti Yogurt in La Jolla for a free tasting of their wonderful frozen yogurt! They are giving away small cup to fill up with any flavor and any topping that you want! It will be from 2 p.m. to 3 p.m., a perfect treat before you go out trick or treating or before heading out for your Halloween night plans! There will also be candy available in the front for free for you to munch on. Come and tell your friends all about this special event! Tutti Frutti is located on Villa La Jolla Dr. in La Jolla. For more information click here.