Whole Foods is taking over San Diego County.
The organic grocer added a new storefront to Del Mar last week -- making it the fourth location south of San Clemente.
Two of the Whole Foods stores in Hillcrest and La Jolla are also undergoing major renovations. During the remodel, Hillcrest has added valet parking for the weekends. Once the renovations are complete, the store will have parking attendants to direct traffic in the urban location.
Probably one of the biggest changes to the two locations are the new fast casual restaurants inside. Whole Foods aims to include restaurants that are unique to the neighborhood, which is why each store has a different dining option.
Del Mar's new storefront includes Trifecta Tavern, a fast casual dining spot that highlights some of San Diego's local beers. Hillcrest will have a sports bar called 7th Avenue Pub, complete with organic fare. And La Jolla will have Torrey Pints, a golf themed gastrolounge for fans of the fairway.
La Jolla and Hillcrest will complete their renovations by Monday, March 11, according to a Whole Foods spokesperson. The restaurants will also open that day. Del Mar officially opened in the Flower Hill Promenade on Feb. 27.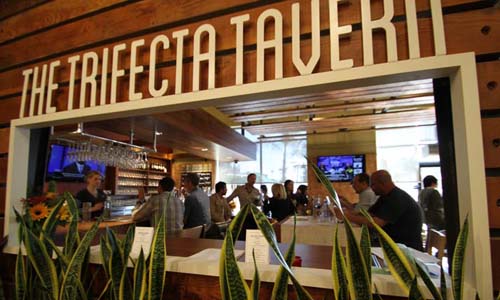 The new Trifecta Tavern in Del Mar Whole Foods. Image courtesy of Whole Foods.