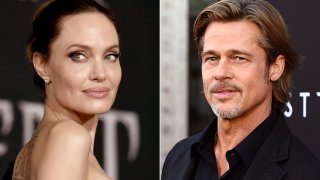 Angelina Jolie said Brad Pitt accused her of "ruining this family" during a heated — and at times physical — confrontation aboard their private jet in 2016, according to an FBI report of the incident shared with both parties originally in 2017. The report, which has not been made public, was obtained by NBC News on Tuesday.
The FBI report paints Jolie's viewpoint of what she described as a tension-filled, hourslong flight in which she said Pitt had been drinking. Pitt appeared to take issue with his then-wife's parenting during the plane ride at the conclusion of a two-week family trip, according to the report, which didn't list the originating city.
Pitt allegedly "grabbed her by the head, shaking her, followed by grabbing her at the shoulders and shaking her" before he punched "the ceiling of the plane approximately four times," Jolie said. According to the report, at least one child witnessed the confrontation and asked, "Are you ok mommy" before Pitt allegedly yelled: "No mommy's not ok. She's ruining this family. She's crazy."
When someone else on the plane shot back at Pitt, "It's not her, it's you, you prick," Jolie said she had to grab her husband around the neck to keep him from attacking that person. According to the FBI report, Jolie also accused Pitt of pouring beer on her during that September 2016 trip that ended at Los Angeles International Airport.
No criminal charges were ever filed against Pitt. Representatives for Jolie did not respond to requests for comment. Representatives for Pitt declined to comment. The FBI also has declined to discuss the case.
Read the full story on NBCNews.com