MRI Next for Kicker Kaeding
Sunday, Sep 11, 2011 | Updated 8:08 PM PDT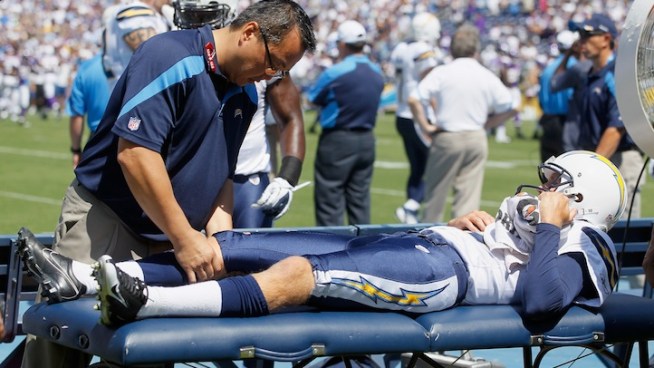 Getty Images
San Diego Chargers kicker Nate Kaeding #10 is attended to by a member of the medical staff after suffering a leg injury against the Minnesota Vikings during the first quarter at Qualcomm Stadium on September 11, 2011 in San Diego, California. The Chargers defeated the Vikings 24-17.
Chargers kicker Nate Kaeding is scheduled to have an MRI exam Monday on what could be a serious injury to the anterior cruciate ligament in his left knee.
Kaeding was hurt during the opening kickoff Sunday, which Minnesota's Percy Harvin returned 103 yards for a touchdown. The Chargers rallied to win 24-17.
Punter Mike Scifres had to take over place-kicking duties. He made the first field goal of his nine-year NFL career, a 40-yarder that helped the Chargers rally.
If Kaeding is lost for the season, the Chargers will likely try to sign a replacement as soon as possible.