Laser Suspect Ordered to Trial
Lawyer said suspect had no malicious intent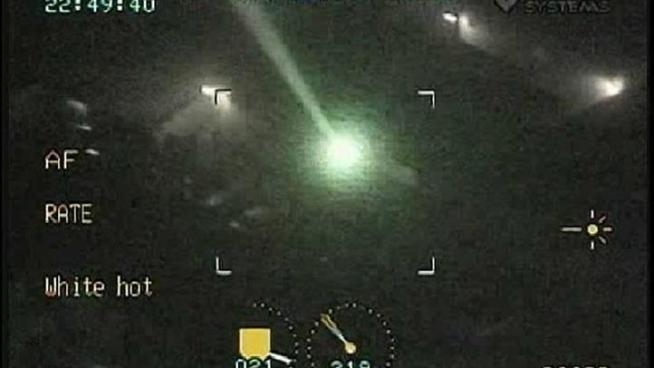 The crew of a police helicopter are blinded by a laser pointer in San Diego. The day the suspect is arraigned in court, officers share the video with reporter Tony Shin and explain the dangers.
An 18-year-old man who was accused of pointing a laser at the cockpit of a San Diego police helicopter was ordered to stand trial on a felony charge Wednesday morning.
Jose Rincon, who has no criminal record, is accused of pointing a laser at the cockpit of a San Diego police helicopter. He will stand trial Sept. 15 and could face up to three years if convicted.
After the preliminary hearing, Judge Esteban Hernandez ruled there was enough evidence for further trial.
San Diego police Officer Todd Jager testified that he and the helicopter pilot were over the Mid-City area just before 11 p.m. on July 11 when someone pointed a laser at the aircraft for 5 to 10 seconds. The pilot was forced to begin wearing night-vision goggles.
Officer Kevin Carey said police were able to identify the window of an apartment on 48th Street where the laser was coming from and arrested Rincon, who admitted pointing the laser at the helicopter and gave the device to police.
Rincon told officers that he originally pointed the laser at a billboard sign and was surprised at its power, then pointed it skyward, following the police helicopter, Carey testified.
Defense attorney Michael Popkins unsuccessfully urged the judge to dismiss the case or reduce it to a misdemeanor, saying Rincon had no malicious intent and was just horsing around when he shined the laser at the aircraft.
Prosecutor Robert Eacret said the conduct was "dangerous" and had the potential to temporarily blind the pilot.