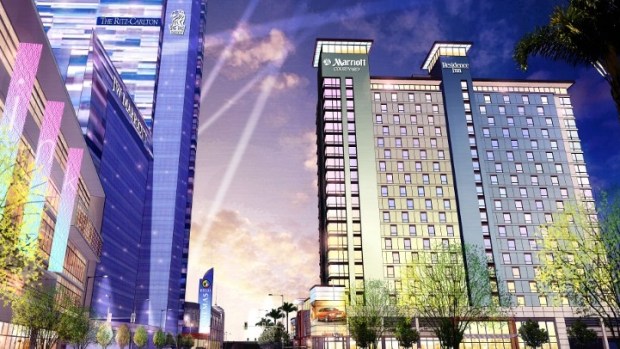 AEG Worldwide
A rendering of the LA Live-close Courtyard by Marriott and Residence Inn by Marriott.
MARRIOTT DUO: Construction of a downtown-based 22-story hotel tower was announced on Tuesday, April 19. It'll be located next to LA Live, at the corner of Olympic and Francisco Street, but here's the twist: The structure will actually house a pair of Marriott hotels, Courtyard by Marriott and Residence Inn by Marriott. "Convention Center modernization" was one of the reasons cited behind the new development, as well as the "promise of Farmers Field"; LA Live continues to be a hotel magnet as well.
377 ROOMS: The move introduces hundreds of new hotel rooms to downtown (the split: Courtyard will get 180, while Residence Inn will have 197 rooms), as well as restaurants and meeting facilities. The rendering above is quite dramatic; we like the cheek-by-jowl appearance of the two Marriotts. But, of course, different properties sharing the same physical structure has been done, and is being done; Nobu Matsuhisa's new luxe lodging will find a home inside the Caesars Palace Centurion Tower in Las Vegas.