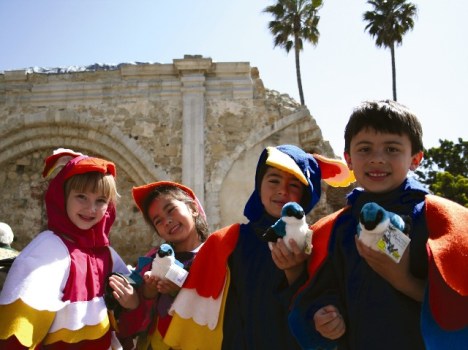 Mission San Juan Capistrano
The swallows are said to return to Mission San Juan Capistrano every year on March 19 -- St. Joseph's Day -- but these little swallows are ready for the big parade. That's happening Saturday, March 23.
SWALLOW WATCHING: If there's a tourist or first-time visitor to San Juan Capistrano who doesn't turn their eyes to the sky to see if they can spot a tiny bird or two, well, we frankly wouldn't buy it. Swallows and the historic mission town go back for decades, thanks in part to the legend of the swallows and the resulting Fiesta de las Golondrinas. Those golondrinas, pretty of wing and wee of beak, have been making a return to the Orange County village every year around the start of spring, at least according to the old stories. But "start of spring" isn't nearly specific enough: March 19, or St. Joseph's Day, is the famous day of the swallows' return. So beloved and persistent is this legend that some visitors might expect to see a legion of swallows, in formation, flying into the town from above at 8 a.m. on the dot on the morning of the 19th. That's a bit Hollywood, and that isn't what happens, but because it is a rather darling story, and because there's a 55-year-old parade built around the arrival of the swallows, people happily keep the tales a-tellin'.
WINGS ON, PARADE PEOPLE: The 55th Swallows Day Parade and Mercado happens on Saturday, March 23. You're apt to see some kids in bird costumes -- sweet -- as well as people on horseback and people waving and playing music, too. It's festive, it's pretty old-time California (can't say that about too many things any longer), and it is free to watch. And, of course, you'll want to keep watch for a swallow or two as they swoop above the mission. And where are the swallows coming from? Argentina, their forever wintertime home. Welcome back, small legendary feathery residents. Welcome back.