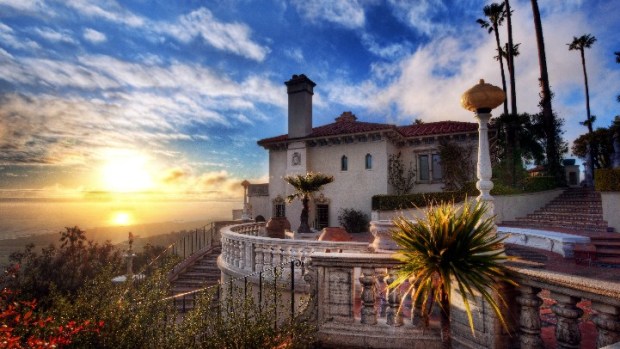 © Hearst Castle
Enjoy apps and wine on the terrace of Hearst Castle on Saturday, June 2.
SAN SIMEON DREAMING: If you've ever been to Hearst Castle you might have paused to think, "Say. Do you think the nice docents and tour guides would mind if I sat out here on this massive terrace and watched the sunset and had a glass of wine and pretended that I lived here? Just for like an hour or two?" What? You're telling us that is our flight of fancy, not yours? We've got news for you: We actually have *multiple* Hearst Castle-based daydreams (another: swim in the Neptune Pool). But we all like to play lord or lady of the manor, once and awhile, in our minds, at California's castles. Now you can, or at least pretend to, for an evening: Twilight on the Terrace, an evening wine-and-appetizer party, is headed for the Central Coast icon on Saturday, June 2.
THE TASTY DEAL: "(G)ourmet appetizers" and wines from vineyards and winemakers in the region will be on the trays and in the glasses. The sunset? Over the Pacific. And you'll have three hours to stroll and sip around that famous terrace and esplanade. It's true that Hearst Castle does offer evening tours during specific times of the year and specific days, but we like Twilight on the Terrace because it isn't about the tour vibe. It's about relaxing and hobnobbing and pretending you get to go upstairs and spend the night and wake up to see sunrise at the Castle. Wait, did we just say that? We admit it. We're big daydreamers about one of the state's most spectacular settings.Twilight on the Terrace is presented by Friends of Hearst Castle; a ticket is a hundred dollars.