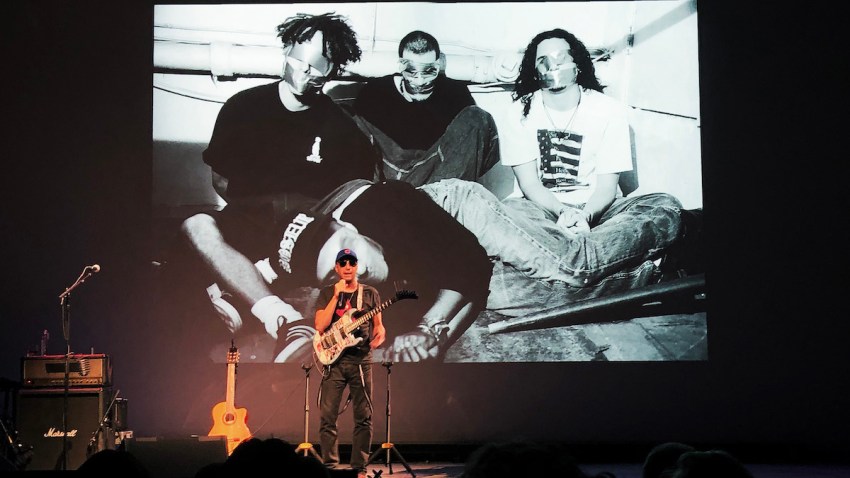 Working in the music industry affords some pretty cool opportunities and sometimes some braggable moments for sure, but one of my favorite brushes with famous people was at Warped Tour several years ago. A friend of mine just started working for Tom Morello, and it happened that Warped Tour in San Diego was on his birthday, so me, my friend and several other band and crew people gathered around as he was presented with a birthday cake. It caught him off guard a little, so it was this little sweet moment and we all hung out and chatted as the cake was devoured. Just last week, everyone was going insane with news that Rage Against the Machine would be reuniting for Coachella, but I've kinda always been more of a Tom fan myself. Tonight, he plays at the House of Blues, and I can assure you, it's gonna rage. (Sorry, I had to.) Around town, Nebula Drag rock the Casbah, Gessafelstein plays Park at the Park and Cardiac Kidz play their second reunion show this weekend at Bancroft Bar.
Sunday, Nov. 10:
Tom Morello, Vic Mensa @ House of Blues
Nebula Drag, Modern Love, Garth Algar @ Casbah
Gesaffelstein @ Petco Park's Park at the Park
Cardiac Kidz, Cyka, Brutal Poodle, Santa Ana Knights @ Bancroft Bar
Rhett Miller, Nena Anderson @ Music Box
Brutal Poodle, Meager, Olds @ Red Brontosaurus Records (5 p.m.)
Above Borders, D.Wrex, Palomino, Falsos Palíndromos @ Soda Bar
Assuming We Survive, We Were Sharks, Mainsail, the Model Youth, Sleep It Off @ Soma
Gloria Trevi, Karol G @ Viejas Arena
Funk Jam @ Panama 66
Jesse Cook @ Spreckels Theatre
Steve Grand @ Martini's Above Fourth
Singer-Songwriter Showcase with Benjamin Grace, Daniel Westrick, Tyler Gill & Jon Wubbana, Kate Hatcher, Tyler Alexis, Michael J Dwyer, Chris Avetta, Jules Welpton, Jen Phipps @ Navajo Live
Simrit @ Seaside Center
Immortal Technique @ Belly Up
StatiqBloom & Physical Wash @ Whistle Stop (8 p.m.)
Twin Ponies and Overself @ Bow Wow Haus (1664 Industrial Blvd.)
Planned Parenthood Benefit Show featuring R.O.C., Palaxe of Mourning, XreighnX, Final Path, C.O.D. @ Che Cafe
Blue Man Group @ Civic Theatre (1 & 6 p.m.)
Country Brunch Live @ House of Blues (10 a.m.)
Gospel Brunch @ House of Blues (11 a.m.)
Beethoven's Eroica @ Copley Symphony Hall
Folk Arts Rare Records Rent Party @ Whistle Stop (4 p.m.)
Mochilero Allstars @ Bar Pink
Zombie Prom @ California Center for the Arts, Escondido
XXV: the Silver Anniversary Exhibition @ California Center for the Arts, Escondido
Sgt. Petty's Lonely Heartbreakers Club Band @ Winston's (5 p.m.)
Salvation: House & Techno @ Blonde
MKC Live @ Manhattan Bar
Jazz Jam with Anthony Ortega @ Pour House
Trevor McSpadden @ Grand Ole BBQ & Asado
1349, Uada, Cloak, Karcist @ Brick by Brick
The Moneymen @ Crossroads, House of Blues (free)
Salsa Sundays @ Queen Bee's (all ages)
Les Allen Band & City Limits @ Renegade
Reggae Sunday with Cityside & the Gravities @ U-31
Uptown Top Ranking @ The Office
DJ John Phillips Veterans Day Dance Party @ Humphreys Backstage Live
Hot Wheels Monster Trucks Live @ Pechanga Arena
Svdden Death @ Bassmnt
Reggae Sunday @ Spin
Rosemary Bystrak is the publicist for the Casbah and writes about the San Diego music scene, events and general musings about life in San Diego on San Diego: Dialed In. Follow her updates on Twitter or contact her directly.