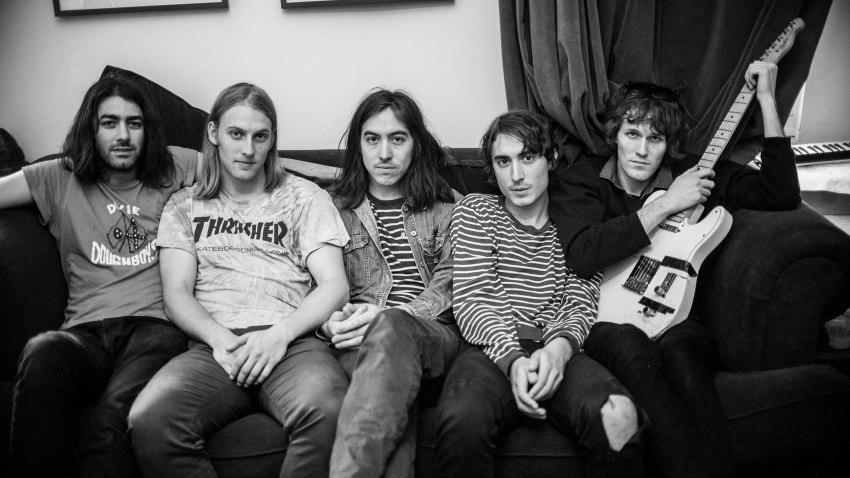 The best record labels are like homies you can trust, the bands they represent taking the place of new-music recommendations you'd normally have to ask for. It's what sets a label like Daptone Records apart from the corporate giants of the music world. Home to the screaming eagle of soul Charles Bradley and Sharon Jones & the Dap-Kings, among others, the New York-based soul label sticks to analog methods to curate and maintain its recordings' characteristic sound. And now that sound you can trust has expanded.
Wick Records, Daptone's new rock-infused imprint, released its premier album in June to the tune of the Mystery Lights' self-titled LP, a rock & roll record of golden pure proportions that pumps with soulful lifeblood. Bask in the glow yourself on Friday, July 29, when the band makes their San Diego debut by lighting up Soda Bar.
Though the band was born on the Central Coast of California in Salinas more than a decade ago when cofounders Mike Brandon (guitar, vox) and L.A. Solano (guitar) were still in high school, its current iteration, the one that Brandon says they finally take seriously, came from New York City. After moving to the city on a whim to share a room with a friend, Brandon invited Solano to visit -- and he just never left. What was supposed to be a few weeks in a new vibe turned into the resurrection of the Mystery Lights, and, eventually the beginnings of Wick Records.
SoundDiego
Music. Community. Culture.
After he calls me back ("I'm actually in line for a pretzel right now. I'm so sorry, can I call you right back?"), Mystery Lights frontman Brandon lets a hot pretzel go cold to talk joining the Daptone family, being the face of a new label and what exactly it means to resurrect a high school band.
Hannah Lott-Schwartz: You guys are the first to release on Wick. What's it been like, being part of the Daptone family? How'd that happen anyway?
Mike Brandon: They are the best -- being the face on their new subsidiary label is such an honor. They are our favorite soul label, and they're all analog. We've been fans of their music for so long. They came to one of our shows, and afterward they're like, "You should come check out our studio." And we went back, and we ended up listening to a bunch of really good garage rock and psych and soul music. And they're like, "You know, we've had this idea of starting this new subsidiary and to do it like we do Daptone. Do you wanna try to cut a 45, just to see how it works?" We cut the 45, and it went really, really well, and they said let's make more records. We're pretty much the experiment. It's a lot of pressure on us 'cause we really gotta show up and, you know, deliver the goods that the people are expecting because Daptone has a reputation, and we don't want to ruin it. Our music, I don't consider it psych or garage rock -- it's soul. It fits in with Daptone. We're just honored to be the first and the face of the label.
HLS: It's a great way for you guys to get some positive exposure right off the bat, just being associated with the label. That's how I came across you, because I trust Daptone and was like, "Oh, they're on a subsidiary? Let's do this."
MB: It's really cool that Daptone, just their name is able to turn people onto us. A lot of times when people hear the words "garage rock" or "psych," they're like, "Oh great." It's an oversaturated genre, and they just dismiss it. And I don't blame them. It got really hip, and people are just jumping on whatever's popular. And sometimes it's not soulful, and I'm really happy right now because I know that Wick is gonna release some soulful rock & roll.
HLS: So your debut, does it have songs that span time, or did you write specifically for this record?
MB: We have a big vault. The funnest part of this is the history. There's like 100 songs in the vault, a lot of demos and ideas from when we were younger that we never got to really explore. It had its moment, and even though we didn't record it at the time, the moment has passed so it's hard to bring back. For this record, it's all new stuff except "21 & Counting." We wrote that when we were kids. Over the next two records, you'll start seeing old songs pop up, but we're gonna do them right. We're gonna keep it fresh but also introduce here-and-there songs from the past that never really got to be heard.
The Mystery Lights play Soda Bar on Friday, July 29. The show is 21+, and tickets are $10. The Loons and Warbly Jets open.

Hannah Lott-Schwartz, a San Diego native, moved back to the area after working the magazine-publishing scene in Boston. Now she's straight trolling SD for all the music she missed while away. Want to help? Hit her up with just about anything at all over on Twitter, where -- though not always work-appropriate -- she means well.