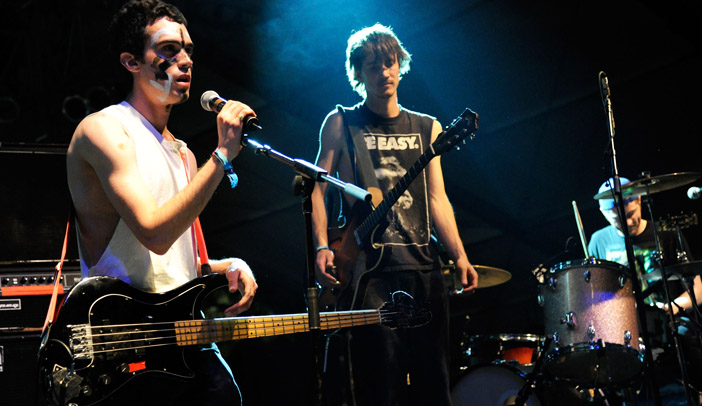 Summer is finally here! Just kidding. We're well into fall, but you wouldn't know it by the weather or by the musical acts still rolling through town. Tonight, the Felice Brothers return to the Casbah to remind you that it's okay to put some whiskey in your whiskey. Meanwhile, the rave scene of the early '90s gets a worthy revival as Kula Shakur reunite for a nostalgic blast from the past. And even more nostalgia reigns as Tears for Fears remind us that "everybody wants to rule the world" at Humphreys as their season begins to wind down. It's an awesome Sunday, so get out and enjoy it, especially if you're staring down a three day weekend.
Sunday, Oct. 9:
The Felice Brothers, Aaron Lee Tasjan @ Casbah
Kula Shaker, The Loons @ Belly Up
Tears for Fears @ Humphreys Concerts by the Bay
La Jolla Art & Wine Festival feat. Full Strength Funk Band, Haskell Collins Band, Michael Tiernan, Susie With Oh La La @ La Jolla Village
Tsunami Bomb, Oceanside Sound System, the Lexicons, DJ Dr Bones @ Soda Bar
Clint Black @ Poway Center for the Performing Arts
Rat Sabbath @ Bar Pink
Headtrip with Real J Wallace, Brother Burns, DJ Ty Def @ Blonde Bar
Florida Georgia Line, Cole Swindell, Kane Brown @ Sleep Train Amphitheatre
Chubby Checker @ Sycuan Casino
MDC, Wartorn, Sculpins, the Yucks, Systematic Abuse @ Brick by Brick
The Big Decisions @ Sycamore Den
Midnite Divide @ Lestat's
Peter Sprague, Leonard Patton, Gregory Page, Nina Francis @ Java Joe's (2 p.m.)
Colour @ Tio Leo's
Fourth Phase @ The Loft, UCSD
Sue Palmer & Her Motel Swing Orchestra @ California Center for the Arts Escondido
Reggae Sunday @ U-31
Second Presidential Debate Viewing @ Whistle Stop (6 p.m.)
Fantasy Dance @ Whistle Stop
Mercedes Moore @ Humphreys Backstage Live (10 a.m. - 2 p.m.)
Scott Wilkie @ Humphreys Backstage Live (7 p.m.)
Velour @ Winston's (5 p.m.)
A SUNday Showcase @ Kava Lounge
Reggae Sunday @ Spin
Rosemary Bystrak is the publicist for the Casbah, the content manager for DoSD, and writes about the San Diego music scene, events and general musings about life in San Diego on San Diego: Dialed In. Follow her updates on Twitter or contact her directly.