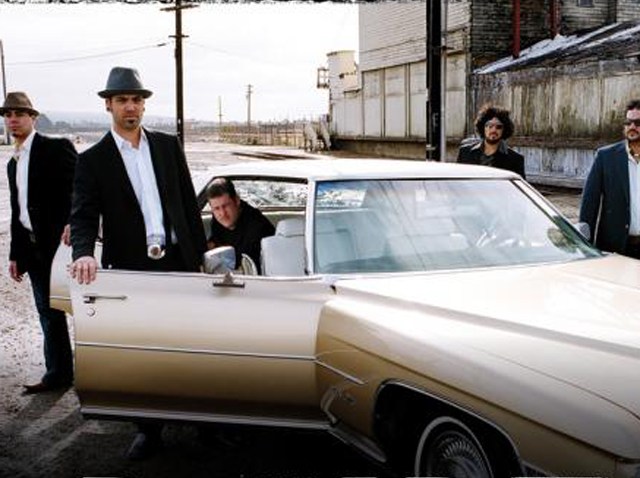 You might just want to take Friday off from work with the fun lineup coming your way on Thursday. The Belly Up hosts their daytime festival at the San Diego County Fair, and by night Gregg Allman takes to the Grandstand Stage (read our interview with Allman HERE). Meanwhile, our boys in Dead Feather Moon lead a solid local lineup at the Belly Up itself, and Missouri's the Life and Times headline the freshly-painted Casbah. Singer/songwriter Griffin House performs at Soda Bar, and rock & roll legends George Thorogood & the Destroyers return to Humphrey's By the Bay with guests Brian Setzer for their Rockabilly Riot. Elsewhere, the Slackers rock out at the Observatory, and our friend Matt Strachota is celebrated with a birthday show at Sycamore Den. Lots to do and plenty to choose from.
Thursday, June 18:
Belly Up Music Festival, with Candy Kane, Combo Libertad, B-Side Players, House of Shem, the Devastators @ Rock On Concert Series, San Diego County Fair
Gregg Allman @ Grandstand Stage, San Diego County Fair -- read our interview with Allman HERE
Dead Feather Moon, the Paragraphs, Low Volts & the Hi-Watts @ Belly Up
The Life and Times, Arms Away, the Anomaly @ Casbah
Jen Kirkman @ The Irenic
Griffin House, Lee Coulter, Cloudside @ Soda Bar
The Slackers @ =Observatory North Park
Jeff Berkley, Lindsay White @ Java Joe's
Matthew Strachota's Birthday Show, with Mandi Strachota & Drew Thams @ Sycamore Den
Wallburds, Le Ra, Blue Eyed Lucy @ Black Cat Bar
DJ Ikah Love @ Bar Pink
Back X Burner @ Legend Records
George Thorogood & the Destroyers/Brian Setzer's Rockabilly Riot Tour 2015, Davy Knowles @ Humphrey's Concerts By the Bay
Death Valley Girls @ The Hideout
Ari Lyon, Nina Francis @ Lestat's
Groove International: Reveal Talent @ Voodoo Room, House of Blues
Glyphics: A Community Art Event, featuring the Whiskey Circle @ The Merrow
Home Free @ Paddock Series, San Diego County Fair (12:30 p.m.)
Darkwave Garden @ The Bancroft
Charlie Arbelaez Quartet @ Croce's Park West
City Lights @ Humphrey's Backstage Live
Katterwaul, Headlock, Nikki & the Mongoloid, Cedar Fire @ Tower Bar
Open Jam Session @ Winston's (6-9 p.m.)
Mercedes Moore @ Tio Leo's
OB Hip-Hop with Lit-One, Fluid, Clean and Seancy @ Winston's
12th Planet, Loudpvck, Kove @ Bassmnt
MAKJ @ Omnia
Astrojump/Kill Quanti DJs @ Whistle Stop
Basshenge @ Kava Lounge
Sunny Rude, DJ Reefah, TRC Soundsystem @ Gallagher's Irish Pub
DJ Junior the DISCOpunk @ Henry's Pub
Oddball @ Boar Cross'n
Live Band Karaoke @ 710 Beach Club
Rosemary Bystrak is the publicist for the Casbah and writes about the San Diego music scene, events and general musings about life in San Diego on San Diego: Dialed In. Follow her updates on Twitter or contact her directly.