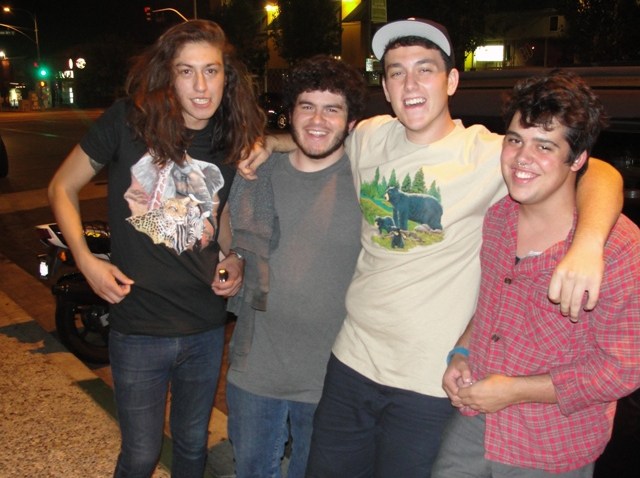 I love the beauty of music discovery. While we've been touting d/wolves as an up-and-coming band in San Diego for some time -- even having them play one of our SoundDiego Live events last year -- there are still plenty of local folks who haven't had the opportunity to see the band live. Tonight, they'll be opening for Baths and another great local band, Lesands, up at the Loft at UCSD, and it will certainly be a great opportunity to see them in an all-ages environment with a big dash of class.
If that's not your thing, you can try your luck at catching Convoy as they reunite for the first time in years to celebrate the Casbah's 22nd anniversary month. Tickets for Saturday are sold out, but you might be able to grab some for tonight. If it sells out, don't be afraid to head over to Brick By Brick to catch Jonathan Tyler and the Northern Lights. Admittedly, I let this CD sit in a pile for awhile before I discovered the soulful rock reminiscent of the Black Crowes or Dirty Sweet. Whatever you do, don't sit home tonight because there are dozens of other fantastic shows available for your pleasure tonight.
Friday, Jan. 14:
Convoy, Blackout Party, Brothers Grimm @ Casbah
Casbah presents Baths, Lesands, d/wolves @ the Loft, UCSD
Club Pussy Galore, featuring the Mashtis, Miss Erika Davies, DJs Robin Roth & Jaime Ali @ Whistle Stop
Jonathan Tyler and the Northern Lights, the Roosters @ Brick By Brick
Lyon Crowns, the Beautiful View, Napoleon Complex, Blonde Summer @ Ruby Room
Rat City Riot (CD release), San Deviants, Getdown, Dead on Wire @ Ken Club
Kenny Eng, Gayle Skidmore, Kelsea Rae Little @ Cafe Libertalia
Rolling the Stones, Wayward Sons @ Belly Up
Teengirl Fantasy, Pictureplane, Illuminauts, DJ WWDJ@ Soda Bar
The Rocketz, Hard Fall Hearts, Strangely Strange @ the Shakedown
Moonbeams, Lightmusic, Uniform Victor @ Tin Can
The Brown Triple Threat, featuring DJs Juancito, Chango Rey, Dr. Seussio @ Til Two Club
Toothless George, the Tuggs, My Revenge @ Eleven
Death Crisis, 400 Blows, Otro (ex Kuntz)@ Tower Bar
Feel the Noise Electro Dance, featuring Tenderloins, RCHRD OH, Gabe Vega, Saul Q @ U-31
Dead As Dillinger, Nights of Apollo, Unified Division, 30/30 @ O'Connell's
Winter Greens Tour, featuring Rebelution, Iration, Orgone @ House of Blues
Fish out of Water, Sticky Funk @ Sound Wave
I-90, Oculus Sinister @ Lestat's
The Pimps of Joytime, C. Money and the Players Inc. @ Winston's
Joker Face, Modern Radio, Dantes Boneyard @ 710 Beach Club
No Bragging Rights, Scarlett O'Hara, Letlive., Lions!Tigers!Bears!, the Siren Sunrise, Tronwayne, Endure the Fall, Anchors Above @ Epicentre
A Dull Science, Get Back Loretta, Stamps, the Material (CD release), He Is the Painter, Gates, the Greater Heights, Terra Firma @ Soma
Syndicate @ Pure Platinum
Blues Festival, featuring Laurie Morvan, Chet Cannon, Red Lotus Revue, Nathan James @ Humphreys Backstage Lounge
The Sidekicks Duo @ Donovan's Circle of Fifths (5:30-8:30 p.m.)
Ron's Garage @ Donovan's Circle of Fifths (9 p.m.)
Suga Free @ 4th & B
John Cruz @ Anthology (early show, 7:30 p.m.)
N'Dambi @ Anthology (late show, 9:30 p.m.)
The Fabulous Pelicans @ Belly Up (happy hour, 5:30 p.m.)
The Lifters, DJ R2 @ Gallagher's
John Foltz @ the Marble Room
Cedric Gervais, Yusef, J. Overell @ Voyeur
DJ Beatnick, Mr Mention @ The Office
'Strut' feat. Halo, Paluka, Cris Herrera @ Kava Lounge
High Tech High event, featuring Jon Kruger with Andrew Armerding, the Flowerthief, Monday's Alibi, A Scribe Amidst the Lions, Knockout Bell, DJ Gonzo @ Queen Bee's
Friction Monster @ Stage Saloon
Zenbu Fridays with DJ Leif @ Zenbu Cardiff
SD Jumpoff with DJ Unite @ Kadan
DJ Mo @ El Cajon Grand
Grandmasta Rats @ El Dorado
El Puro Party, featuring DJ Qenoe, Pleasure Victim, Adam Salter @ Super El Camino
DJ Scooter @ Fluxx
Lang Lang Plays Rachmaninoff @ Copley Symphony Hall
Rosemary Bystrak writes about the San Diego music scene, events, and sometimes whatever creeps into her head on her music blog San Diego: Dialed In. Check it for even more listings. She also provides social media content for the Casbah. Follow her updates at twitter.com/sddialedin or submit your music listings.