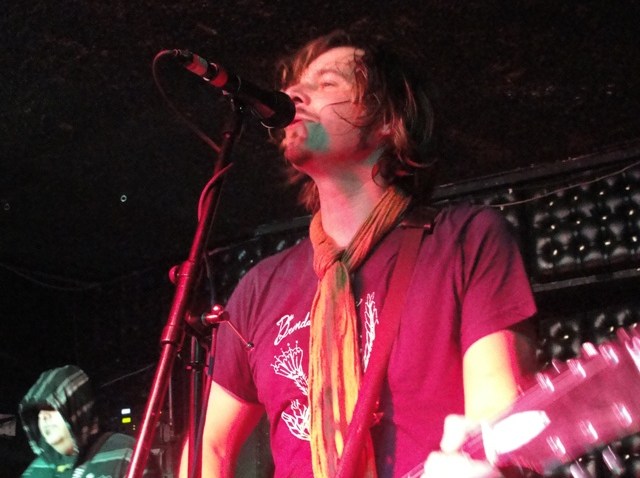 There are people in the San Diego music community who make a real impact on the community. While Sara Morrisson chairs the North Park Festival of Arts committee and her husband, Roger, has played in a few bands over the years, but mostly just seeing them at shows lets you know they're dedicated to San Diego music. If you catch them at all-ages events, you'll see them with their young son, Thomas, enjoying the bands as a family. As the only couple to ever share nuptials on the Casbah stage, they return tonight to celebrate their fourth anniversary.
Monday February 21:
Anti-Monday League presents Sara and Roger's Anniversary Party with Rafter, Swim Party, Patrick Dennis, Listening to Rocks @ Casbah (Doors are at 7:30 a.m., bands start at 8 p.m..)
Hello Electric, Lord Juggernaut, Pilots @ Soda Bar
Make Believe Monday with Stevie & the Hi-Stax @ Bar Pink
Tribute to the Reggae Legends, featuring Bunny Wailer, Don Carlos, Horace Andy, Israel Vibration, Freddie McGregor, Marcia Griffiths, Half Pint, Gentleman, Richie Spice, I-Octane, Cornel Campbell, Fully Fullwood Band, Tosh 1, Tribal Seeds, Quinto Sol, Bredren @ Valley View Casino Center
Sodapalooza 4.0, featuring Good Intentions, BlueBloodRed @ Belly Up
April Ventura @ Riviera Supper Club
Joe Buck Yourself, the Hooten Hallers, Big Buck Hunter and the Pros @ The Shakedown
Lord Dying, tba @ Ruby Room
Nathan James @ Humphrey's Backstage Live
Open Mic @ Lestat's
Rock Jam DJs @ U-31
The Pocket Rockets, Starcrossed, Con Tom, Punchcard @ Eleven
Club MAW @ Henry's Pub
Doug Allen, Susie Bongo @ The Kraken
Jeff Moore's Witchdoctors @ Patrick's II
Three Chord Justice @ Bar Leucadian
Electric Waste Band @ Winston's
Corey Cottrell @ Hennessey's Gaslamp
Califarians (acoustic) @ Hennessey's PB
Sue Palmer @ Athanaeum Music Arts and Library (noon)
Pro-Invitational Blues Jam, hosted by Mystery Train @ O'Connell's
The Get Down @ Club Kadan
Dave Scott @ Croce's
Trivia Night @ Whistle Stop
Rosemary Bystrak writes about the San Diego music scene, events, and sometimes whatever creeps into her head on her music blog San Diego: Dialed In. Check it for even more listings. She also provides social media content for the Casbah. Follow her updates on Twitter or submit your music listings.