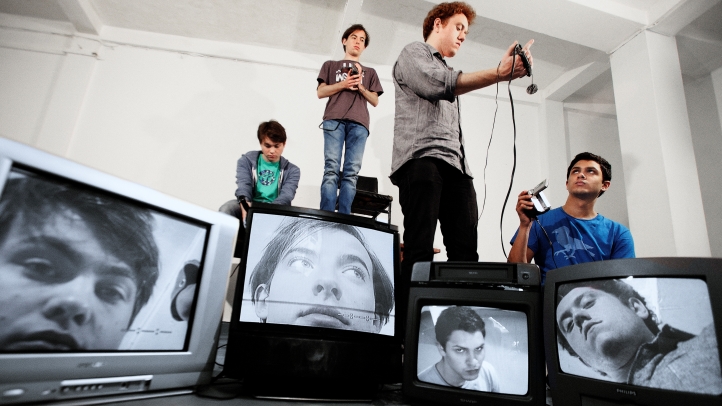 Whether love is in the air or you're anti-Valentine's Day, the music scene is impartial and doesn't judge. Hopefully you snatched tickets to the sold-out Bombay Bicycle Club or you'll have to find something else to do. You should consider the Soda Bar, where the Chantepleures will be appearing. The local indie band formed last year and recorded in the fall, and features Brent and Noelle Felix, along with Jared and Jonathan of the Mattson 2. They'll be joined by Mohammed Qiang featuring John Paul Labno of Grand Old Party, the Hot Moon, and Vegetarian Werewolf. Tin Can has a great local lineup, the Belly Up has a dance party, and the Tower Bar keeps it gritty with a rare mid-week live show, so there are plenty of fun reasons to get out of the house.
Tuesday, Feb. 14 (Valentine's Day):
Bombay Bicycle Club, the Darcys, Lucy Rose @ Casbah (Sold Out)
The Chantepleures, Mohammed Qiang, Junior High @ Soda Bar
Thea Tochihara, Alisa Fedele, featuring Nick Z. & Andrew Seistrup, Carmen Caserta @ Tin Can
Mad House 7: Valentine's Day Dance Party, with DJ Man-Cat, Chris Chamberlain, Rock the Discotek, Dbear, Shift, Kevin P, French Kiss Collective @ Belly Up
Tommy Emmanuel @ Balboa Theatre
Problem With Dragons, Planetoid, Killer Party @ Tower Bar
Tiki Tuesday Valentine's Edition, with DJ Old Man Johnson @ Bar Pink
Children of Bodom, Eluveitie, Revocation, Threat Signal @ House of Blues
West Side Inflection @ Riviera Supper Club
KSDS presents Allison Adams Tucker Quartet @ Lyman Saville Theatre
Leonard Patton, Teagan Taylor, Ed Kornhauser, Bob Magnusson, Duncan Moore @ Dizzy's (7 p.m. 9 p.m.)
Darkwave Garden @ Club Kadan
Tori Roze presents Ruby Tuesday Valentine's Day Show, with the Lovebirds, Afrojazziacs, Melly Frances & the Distilled Spirits @ Ruby Room
Rockola @ Humphreys Backstage Live
A Valentine's Day Tribute to Sinatra, featuring John Vincent & the John Cain Orchestra @ Anthology (7 p.m., 9 p.m.)
Train of Thought @ Queen Bee's
Local Brews Local Grooves, with Joe Flatt, Winterhawk, Picus Maximus @ House of Blues Voodoo Stage
Valentine's Day Party, with C.Money, Mike Pinto, Josh Fishell @ Winston's
Trent Hancock @ Tiki House
Tomcat Courtney @ La Gran Tapa
Open Mike, with Walter Gentry @ Patrick's Gaslamp Pub
Friends Chill @ Whistle Stop
Tommy Price & The Stilettos @ Henry's Pub
Doug Allen @ The Kraken
Gilbert Castellanos & the New Latin Jazz Quintet @ Croce's
Laguna @ McP's Irish Pub
Trent Hancock @ Marble Room
Rosemary Bystrak writes about the San Diego music scene, events and general musings about life in San Diego on San Diego: Dialed In. Follow her updates on Twitter or contact her directly.