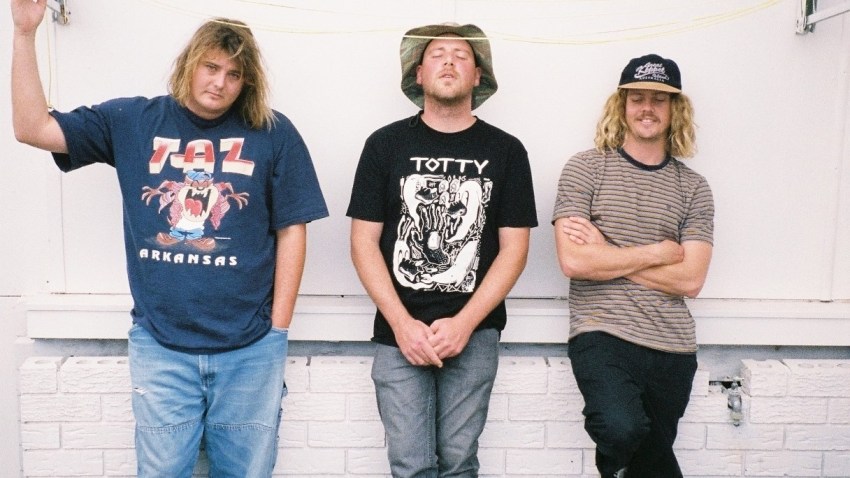 There are some weekends that you just feel like you've earned more than others, so I cannot complain one bit that it is Friday and maybe, just maybe, my email inbox will give it a rest already. Once that metaphorical 5 o'clock whistle blows, I'm gonna turn my brain off for the night and have some fun with Aussie rockers Skegss, whose Casbah debut sold out in the last day. I feel like there are gonna be some bummed out people at the door who maybe counted on tickets still being available. In fact, there might be some disappointment all around, as Two Door Cinema Club and the Pine Mountain Logs are also sold-out tonight. You can still head to Soda Bar for Lyrics Born, or the Soda Bar presents show with Tiny Moving Parts at Quartyard, though it's been a bit nippy at night so take a light jacket. I think the good idea here, wherever you might end up, is to kick off the night at Panama 66. It's San Diego Beer Week and the brews they've lined up are top notch, and our pals the Color Forty Nine would love to play for you before they head out on tour in Japan. It's an all around win no matter where the late night coaxes you.
Friday, Nov. 8:
Skegss, Le Shiv @ Casbah (SOLD OUT)
Snow Tha Product @ House of Blues
Lyrics Born, Elephants in the Room @ Soda Bar
The Pine Mountain Logs @ Belly Up (SOLD OUT)
Sabrina Claudio, Gallant @ SOMA
Two Door Cinema Club, Peach Pit @ The Observatory North Park (SOLD OUT)
The Color Forty Nine, Dani Bell @ Panama 66
Tiny Moving Parts, Fredo Disco, Standards @ Quartyard
Tim Flannery, the Jefferson Jay Band, Trails & Rails @ La Jolla Athenaeum
The Cardiac Kidz, Social Spit, Paloma Loca @ Ken Club
Chulita Vinyl Club + La Fam @ Whistle Stop
Imagery Machine, North by North, Scary Pierre @ 710 Beach Club
California Guitar Trio @ Museum of Making Music
We Are Yr Friends @ Blonde
BrokenBeat SD @ Space
David Wilcox @ AMSD (Sweetwater Community Church, 5305 Sweetwater Road, Bonita)
Femme Fatale Dark Danse Party with DJ Camilla Robina and DJ Nastea @ Bar Pink
Hilltop Hoods, Adrian Eagle @ Music Box
The Professors, Roger!, Javier Escovedo & the City Lights @ Black Cat Bar
Farruquito @ The Conrad Prebys Performing Arts Center (SOLD OUT)
Where Are You? Acoustic Show with Sarah Jeurs @ Moniker Warehouse (7 p.m.)
Adult Crash, Dying for It, All Beat Up, Frontside, Headcount @ The Che Cafe
Clean Cut Hippies, Gypsy Sally @ Lestat's
Clinton Davis @ Grand Ole BBQ & Asado
OB Hip-Hop Social #80@ Winston's
Whiskey, Cash, and Roses @ Moonshine Beach
Martin McDaniel @ Moonshine Flats
Josh Rosenblum Band @ De Oro Mine Co
Vinnie Caruana, the Thieves About @ Voodoo Room, House of Blues
Chunky Hustle Brass Band @ Seven Grand
Island Vibe Presents KLNM, Lea Love & Nico (Tribal Theory) @ The Holding Company
Paul Lopez Percussionist @ Border X Brewing
Drivin' the Bus @ Mr. Peabody's
Blue Man Group @ Civic Theatre
Great Electric Quest, War Cloud, Stonecutters @ Pour House
John January & Linda Berry @ Fast Times
Broken Record, River Gods @ Tower Bar
Gilbert Castellanos @ Plaza Bar, Westgate Hotel
The Janice Edwards Trio @ Martini's Above Fourth
Good Vibes @ Riviera Supper Club & Turquoise Room
Ypsitucky, the Liquorsmiths, the Lonesome Lowdowns @ Til-Two Club
All-Vinyl Happy Hour w/Monsieur Turbeau @ The Office (6 p.m.)
DJ Kid Wonder @ U-31
The Siers Brothers @ Tio Leo's
Oak Palace, Herigloom, Jamie Lee-Dines, Dani the Changeling @ Salty Frog
Linda Rae & Breakheart Pass @ Renegade
Wildside @ Humphreys Backstage Live (9 p.m.)
Mercedes Moore @ Humphreys Backstage Live (5 p.m.)
Get Groovin' Annual Rock Show @ Navajo Live
Rumors: An '80s New Wave Synthpop Dance Night @ Manhattan Bar
Platinum Vibe, DJ Miss Dust @ V Lounge, Viejas Casino
Finesse, DJ Miss Dust @ Lobby Ba+r, Viejas Casino
Pete Tong @ Bang Bang
LED presents Whethan @ Spin
Audien @ Omnia
A-Wall @ FLUXX
Rosemary Bystrak is the publicist for the Casbah and writes about the San Diego music scene, events and general musings about life in San Diego on San Diego: Dialed In. Follow her updates on Twitter or contact her directly.