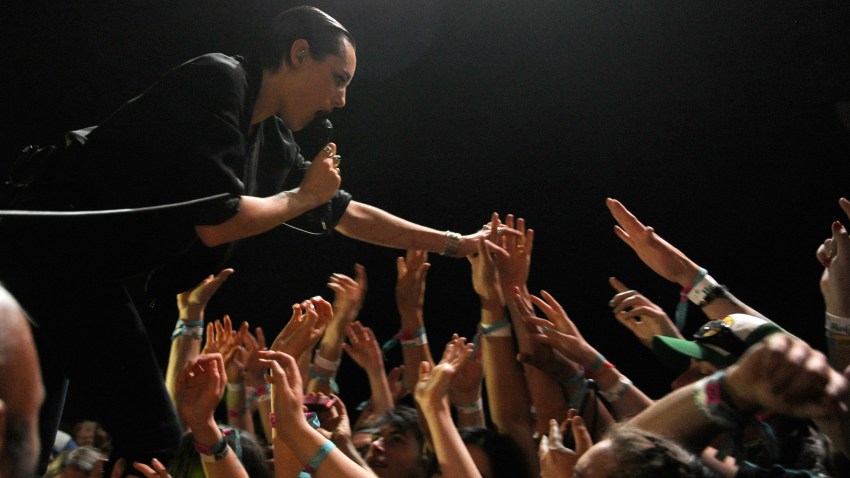 This month holds many selections, what with Major League Baseball's All-Star Game and Comic-Con in the same month -- this will most certainly be a July to remember in America's Finest City. Now I always do my best for you, San Diego, but these are my suggestions and they are only suggestions. I didn't even list one of the concerts surrounding the All-Star Game events -- Gwen Stefani is headlining one of them! So use the tools that SoundDiego provides and don't miss a thing. Now on with the shows! I live for live music!
July 1: Ringo Starr & His All-Starr Band at Humphreys By the Bay. The former Beatle always brings a bunch of his friends along for the epic shows.
July 2: Flight Of the Conchords at the Cal Coast Credit Union Open Air Theatre, because comedy is not pretty and they are the self-proclaimed "fourth most popular guitar-based digi-bongo a cappella-rap-funk-comedy folk duo."
SoundDiego
Music. Community. Culture.
July 3: Emily Jane White at Soda Bar. The songwriter, pianist and guitar player will entertain you this night.
July 4: Fireworks!
July 5: Brit Floyd at San Diego Civic Center. The thing to note, is that it's a Pink Floyd experience.
July 6: Lyrics Born at the Belly Up. Japanese-American rapper and producer.
July 7: The Art Dealers, Oliver Trolley and Christine Parker at the Belly Up. Support local music!
July 8: Margaret Glaspy at Soda Bar. Singer/songwriter, so keep it down, shhhh...
July 9: White Lung and Plague Vendor at Casbah. Damn Daniel, this is gonna be good!
July 10: New Madrid at Soda Bar. Psych/prog rock!
July 11: Parker Milsap at Casbah. Alt-country and American music from Oklahoma.
July 12: M. Ward and NAF (Nice As F---) at the Belly Up. M. Ward is a singer/songwriter extraordinaire!
July 13: Wheeler Walker Jr. at the Casbah. I don't want to ruin the surprise.
July 14: Deerhoof and Skating Polly at the Casbah. It could get strange and weird, but it will rock!
July 15: We Are Scientists at House Of Blues Voodoo Stage. Remember when they played a SoundDiego LIVE party at the Casbah?
July 16: SoundDiego Summer Splash with La Luz and Botanica Chango at Harrah's Resort SoCal, plus yours truly as your host! Discounted rooms or party bus, take your pick!
July 17: Wye Oak at the Irenic. Indie-rock duo from Baltimore.
July 18: Rococode at Soda Bar. Indie-pop duo from Vancouver, British Columbia.
July 19: Fear Of Men and Puro Instinct at the Hideout. A night of dream pop.
July 20: The Joy Formidable at the Irenic. You've heard them on the radio -- it's alt-rock from North Wales.
July 21: Autolux at the Irenic. Dystopian post-rock!
July 22: Cold War Kids at the Del Mar Racetrack. The first of the series at the track this season and many more to come...
July 23: The Aquabats at House Of Blues. Ska-tastic fun at Comic-Con every year!
July 24: Inter Arma at Soda Bar. A Heavy band from Richmond, Virginia -- let's get heavy!
July 25: Big Business at the Casbah. Stoner/metal sludge, you're welcome!
July 26: Modest Mouse and Brand New at Sleep Train Amphitheatre. Do I have to tell you how good this show will be?
July 27: Escort at the Casbah. Disco, disco, disco like the old days.
July 28: Magic Giant at the Casbah. LA indie-folk band.
July 29: Savages and Head Wound City at the Observatory North Park. UK indie-goth rock; and spazz rock featuring Justin Pearson and Gabe Serbian from the Locust, and Nick Zinner from the Yeah Yeah Yeahs!
July 30: Oh Pep! at the Casbah. Folk-pop band from Australia.
July 31: Honne at the Casbah. Electronic-soul from the UK.
Thanks for reading and remember, I do it all for you! See you at Harrah's Resort SoCal on Saturday, July 16, and pretty much any of the shows listed above! Now get out and see some shows!

Tim Pyles, a longtime local who grew up in La Jolla, is the unofficial mayor of local music and hosts Loudspeaker via 91x every Sunday from 7-10 p.m. He also books local acts at the Casbah, hosts the weekly Anti-Monday League, books/hosts the monthly Maryjane's Underground at the House of Blues and is an entertainment writer for Pacific San Diego Magazine. Check out his website thelocalpyle.com and and follow him on Twitter @thelocalpyle. You can reach him directly here pyleste@yahoo.com