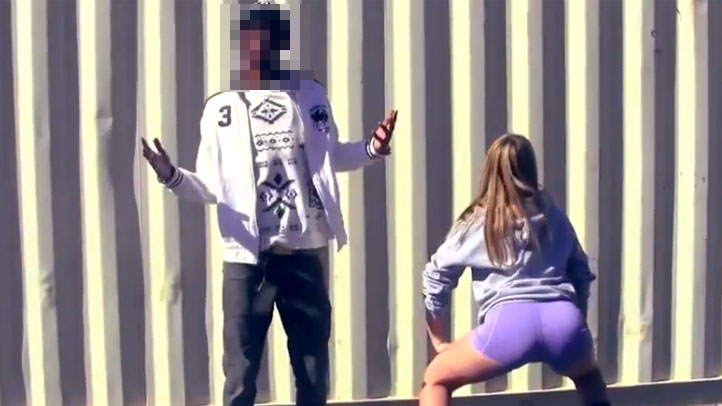 A group of suspended students may get to see Diplo, the DJ and producer who helped create the twerking dancing phenomenon.
Dozens of San Diego area high school students who were, according to a parent, suspended and banned from prom or commencement because of a twerking video, are now being offered free tickets to see the rising star whose music video is credited by some for popularizing the dance.
Concert promoter Farley Lucas of My Life Every Day is offering all the suspended Scripps Ranch High School students who are over 18 a free pass to the May 26 concert at Valley View Casino Center on May 26, where they'll be able to see Diplo, the mastermind behind the song and music video "Express Yourself."

SoundDiego
Music. Community. Culture.
"Just saw it come across the news online … one of our biggest acts in our show is Diplo," Lucas said. "He got 3 million hits for his video 'Express Yourself,' which is where the whole phenomenon of twerking came from."
"If it was any other kind of dance style -- if it was 33 girls dancing salsa-style -- I don't think they would have got suspended," Lucas added. "I saw the video. I can understand the school being upset about it, but it's pop culture, it's what's relevant right now. Diplo is selling out arenas -- probably had the biggest crowd at Coachella this year."
The electronic/hip-hip outfit Major Lazer -- made up by Diplo, Walshy Fire and Jillionaire -- crushed it at Coachella, with fans swarming by the tens of thousands to see them.
"Every one of his shows, girls from the audience come up onstage and do what the girls did who got suspended for it," Lucas added.
In a 2012 roundup,
MTVHive reported
that "the one-two thrust of Diplo's 'Express Yourself' and French Montana's 'Pop That' made twerking the most popular dance move since the Dougie."
Thirty-two students danced and one student used school property to videotape the group outside class during sixth period.
Later, the student used school editing equipment to add music and post the clip to YouTube.
One Scripps Ranch HS student posted an update via Twitter, "Suspended, banned from prom, and prevented from walking at graduation all because of an awesome twerk video. I don't understand."
NBC 7 San Diego spoke to one of the teenagers disciplined because of the video and said that may not be the case.
"The seniors involved are on senior review and have to ask for their prom and graduation back in front of a panel," the teenager told NBC 7.
The Scripps Ranch HS
student handbook
specifically outlines its sexual harassment policy prohibiting "verbal, visual, or physical conduct of a sexual nature made by someone from or in the educational setting."
Students must sign a page in the handbook that states: "At Scripps Ranch High school there is zero tolerance for students who cause major disruptions at school or school activities. Any student who causes a major disruption will receive a five (5) day suspension, a possible new school placement and may be arrested."
Seniors may be denied attendance at prom or walking at graduation if they have committed a "zero tolerance infraction" the guide states.
One parent, Mark Silverman, said there was a need for more tolerance.
"I just think it's not that big of a deal. It was just expression; maybe overly expressive, I guess," Silverman said.
SoundDiego is attempting to contact the suspended Scripps Ranch students to determine whether they will be twerking at My Life Every Day on May 26. Lucas said they can reach out to LED at vip@mylifeeveryday.com.