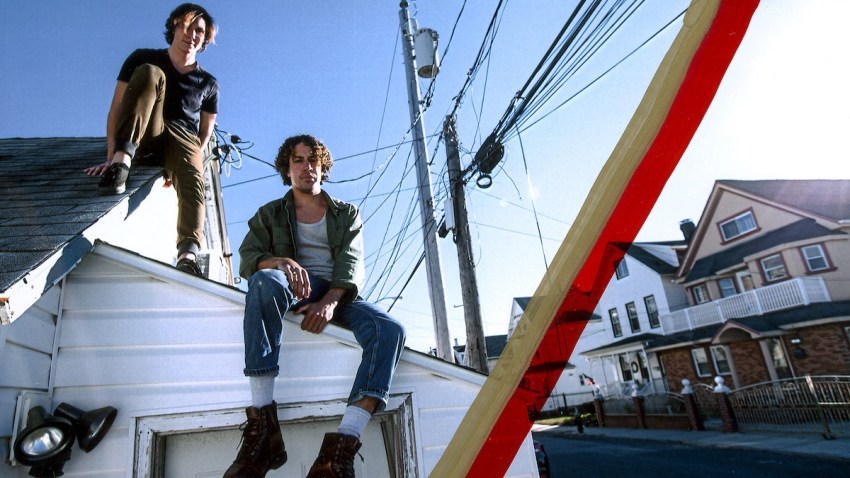 Lewis Del Mar may come off as poppy, but the indie rock duo is no boy band.
At 12, Danny Miller (singer/guitarist) and Max Harwood (drummer/producer) began playing Rage Against the Machine covers in Harwood's basement. But it wasn't until the Washington, D.C., natives moved to New York that Lewis Del Mar began.
Speaking with Harwood over the phone, you can hear the excitement and enthusiasm in his voice -- he speaks faster than his thoughts, like a little kid discussing his toy truck collection:
SoundDiego
Music. Community. Culture.
"We ended up moving to Rockaway Beach, which is sort of like," Harwood pauses, "basically where Brooklyn and Queens end, and its at the edge of New York City -- right up against the ocean. That's been a really good place for us to grow, because it's sort of half the city on one side and ocean on the other side. It feels like this weird clashing of worlds -- a lot of what our music aims to do."
Their new, self-titled album has a hypnotic personality. The first single, "Painting (Masterpiece)," is extremely catchy. Harwood's shuffling dance drumming immediately steals your attention, and it's simple enough for the guitars to pluck and pulsate between one another. The album's jagged jungle beats, minimalist guitars and electronica production -- along with Miller's gritty to soft vocals -- simulates a Cage the Elephant and Alt-J offspring.
"We wanted to do music that was pushing the limits a little bit sonically, and a little bit more challenging in that regard, but also still fundamental songwriting." Harwood says, "So these are still songs your average person can connect with emotionally and get something out of; it's really just a hybrid of those two worlds."
It probably has something to do with their "overnight success": appealing to the masses, but gaining the respect of music lovers as well. Within a year of releasing their debut EP, Lewis Del Mar has gone from the opening band "sitcom set," to headlining a world tour. Harwood prefers the latter:
"Doing the headline set, you're able to really create more of a relationship with your fans, they can really get into it and you feel like you're creating something together with them. Then, when you're opening a set, you're trying to win over new people, where as when you're doing a headline set you kind of are engaging in the relation of fan and band -- we're falling deeply in love with each other."
Lewis Del Mar make their first visit to San Diego when they headline the Casbah on Sunday, Nov. 6.
Musician, people-pleaser, lover, fighter and writer Matthew Craig Burke has been spewing musical words of wisdom since never. He lives off of peanut butter sandwiches, beer and Beck Hansen. Follow his updates on Facebook or contact him directly.