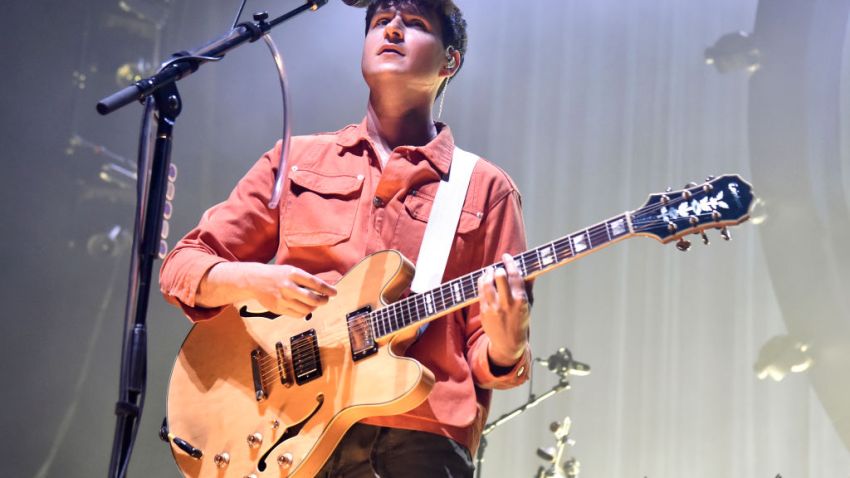 A lot of times I'll be at the Casbah and catch a conversation between people humble-bragging about their show history. You'll hear references to the infamous Nirvana show, or Alanis Morrisette, or Arcade Fire. But there are other shows that I think are super special, with bands who performed right before they really broke, and one of those was Vampire Weekend. I still remember Ezra had a thick scarf around his neck and wasn't feeling well, but it didn't matter. The show was super special and shortly thereafter, they were playing massive rooms and headlining festivals, like San Diego's Street Scene. Rostam has since left the band, and Chris Baio did his own thing for a bit, but tonight "Vampy Weeks" is back in San Diego with a show at SDSU's Open Air Theatre on their "Father of the Bride" tour. If you have tickets, get there early for the incredibly talented Soccer Mommy. Around town, Seaport Sessions continue with Hong Kong Fuzz, Fruit Bats play a sold-out show at the Casbah, and it's almost sweater season, so naturally Ingrid Michaelson returns to town with a show at the Observatory North Park.
Thursday, Oct. 3:
Vampire Weekend, Soccer Mommy @ Cal Coast Credit Union Open Air Theatre, SDSU
Fruit Bats, Credit Electric @ Casbah (SOLD OUT)
Ingrid Michaelson, Maddie Poppe @ The Observatory North Park
Patti LaBelle @ The Magnolia
Nikki Lane, Carl Anderson @ Soda Bar
St. Paul & the Broken Bones, Jeremie Albino @ Humphreys Concerts by the Bay
Seaport Sessions with Hong Kong Fuzz @ Seaport Village (music 5-6 p.m., 7-8 p.m.)
Grown Folks Music with Buddha @ Bar Pink (9 p.m.)
Over Yonder, Los Dune Bums, the Shed, Infinite Shrug, Joel Kynan @ Tower Bar
The Memories, Good Time Girl, Yujin13 @ Whistle Stop
Hayes Carll, Rod Melancon @ Belly Up
A Perfect Tool, All American Idiots, DJ CC @ The Holding Company
Earth Groans, Comrades, Blackcast, the Undertaking @ Space
Obituary, Abbath, Midnight, Devil Master @ Brick by Brick
Salvation Thursday @ Blonde
Big K.R.I.T., Domani Harris @ House of Blues
Andrew Duhon, Photo Ops @ Voodoo Room, House of Blues
The Sickstring Outlaws @ Mr. Peabody's
The Monsoon, Bort Nebulon, Red Theme @ Pour House
Mike Holmes, Riston Diggs, Heartbreak Hitman, Buddie Roots @ The Merrow
Erika Davies @ Panama 66
Bayou Bros @ Humphreys Backstage Live
Lexi Pulido, Grant Fisher, Harley Magsino, Julien Cantelm @ Quartyard
James Tormé in "Color Me Jazz" @ Martini's Above Fourth
Berner, Hollywood, Anonymous, R-Mean @ Music Box
Jimmy Ruelas @ Seven Grand
Laryssa Birdseye @ De Oro Mine Co
Open Jam Session @ Winston's (6-9 p.m.)
Safety Orange and El Dub @ Winston's
Death Nation @ Til-Two Club
Christina Wheeler @ The Loft, UCSD
Rip Carson Solo @ Grand Ole BBQ & Asado
Dig Deeper with DJ Qure @ The Office
Bill Caballero Latin Jam @ Border X Brewing
Open Jam with Jeff Ousley @ Navajo Live
Tommy Price & the Stilettos @ Tio Leo's
Unite, Number Juan, Reefah @ Manhattan Bar
Undone @ Omnia
Rosemary Bystrak is the publicist for the Casbah and writes about the San Diego music scene, events and general musings about life in San Diego on San Diego: Dialed In. Follow her updates on Twitter or contact her directly.