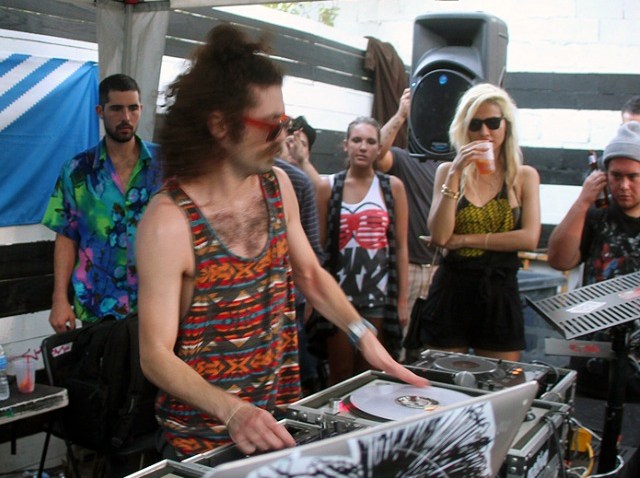 If you weren't watching the Grammys telecast, you missed out on Gaslamp Killer's mainstream America debut thanks to Apple's new commercial. The one-minute ad captures the San Diego-raised DJ/producer and British producer Riton making beats on their iPads for Swedish rap artist Elliphant. What you get is start-to-finish look at how digital music can be made today using Apple devices.
When first approached by Apple to do the commercial, Gaslamp Killer thought it was joke. "I had no idea there were people reporting back to whoever the hell at Apple," he told Rolling Stone. "It came out of the blue, like, 'We've been watching you, dude. We think you're great.' 'Uhhh, excuse me? Is this a f---in' prank?' I didn't believe it was them."
Maybe this shock is partly due to being hated on as a bar DJ in the gentrified Gaslamp District of downtown San Diego. As the experimental hip-hop DJ told the U.K.'s Metro, an attractive woman once came up to him while he was doing a set and said, "We were hoping to celebrate my friend's birthday, but you've really killed our evening, you a--hole."
SoundDiego
Music. Community. Culture.
Looks like Gaslamp Killer's "buzzkill" music is finally getting love in 2015.
Watch the "Make Music With iPad" commercial and follow Gaslamp Killer on Twitter.

Dita Quinones is a multimedia journalist born in Tijuana with a passion for Latin alternative and hip-hop music news. Her main goal is to uplift and inform so that the Latino, Filipino and hip-hop community get knitted into the fabric of American history. In addition to SoundDiego, she contributes to Latina, Fox News Latino, Poder, VidaVibrante, San Diego CityBeat and HipHopDx. She is also the founder of the infamous music and politrix blog GN$F! Follow Dita on Twitter or on Facebook.