People across much of the planet were having problems accessing Twitter on Thursday, a day before the 2012 Olympic Games are expected to cause a spike in use of the micro-blogging site.
The site went down around 8:45 a.m. Pacific time, though service seemed to have been restored by 10:40 a.m. Pacific.
One of the first tweets after the restoration claimed the outage actually saved money. "twitter's long outage this morning has saved the global economy $1.8 billion in avoided productivity loss," one user wrote.
Although we can't confirm that figure - we get the point.
The company acknowledged the problem, saying in a statement on status.twitter.com that "users may be experiencing issues accessing Twitter. Our engineers are currently working to resolve the issue." Twitter did not elaborate during or after the outage.
Visitors to Twitter.com were for a time greeted with the half-formed message: "Twitter is currently down for %(equals) reason %."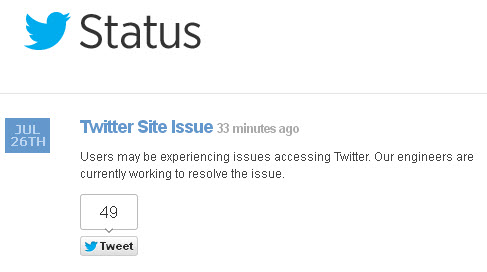 "We expect to be back in %(equals) deadline %," the site said.
Sluggishness or outages were reported from countries in North America, Europe, Asia, Latin America, the Middle East, and Africa.
Some users were apparently able to post tweets through their phones or third-party applications. Updates about the Olympic torch — which is currently wending its way through central London — were still pouring in, albeit far more slowly than earlier in the day.
About an hour after issues were first spotted, service appeared to be restored in parts of the U.S. and Asia, but users elsewhere continued to report problems.
The Olympics are expected to bring an unprecedented surge of activity by sports fans on social networking sites such as Twitter.
At the recent European Championship final, users fired off more than 15,000 tweets per second, setting a sports-related record for the site.
The widespread outage was the second time in a little more than a month that the service had gone down, CNET reported.
Twitter users had trouble using the service for up to two hours back on June 21 as a result of what the company called a "a cascaded bug in one of our infrastructure components."
Social media users were already complaining about an earlier outage that affected Google's chatting services. The Mountainview, Calif.-based company said Thursday morning that the majority of users were seeing error messages and unable to use its Google Talk service. The issues were resolved five hours later.