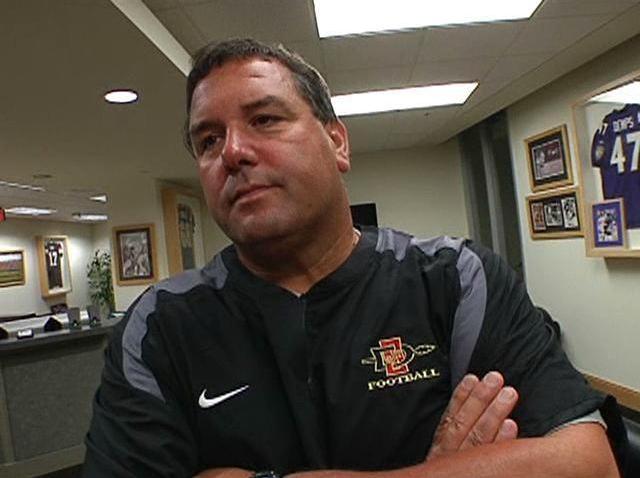 On September 24th, Brady Hoke will be coaching the football game between San Diego State and Michigan. He'll likely be wearing Maize and Blue at the time.
Reports out of Michigan say it's not a matter of IF Hoke leaves Montezuma Mesa for the Big House, but WHEN he does.
Despite published reports to the contrary, Michigan athletic director Dave Brandon did in fact try to recruit L-S-U coach Les Miles. L-S-U plays its bowl game Friday night at the Cotton Bowl, and Miles has said repeatedly this week he's staying in Baton Rouge.
So, sources close to the situation say Hoke will be offered the Michigan job, and could take it as early as Saturday afternoon. It's hard to imagine he'd turn it down, given the fact he's on the record saying Michigan is his dream job.
What about his staff? Defensive coordinator Rocky Long has interviewed, and is a finalist, for the Texas State head coaching job. Over the next two years the Bobcats will move full time into the Football Bowl Subdivision (the artist formerly known as Division 1-A) and want a coach with major college experience, which Long certainly has. Offensive Coordinator Al Borges has reportedly been contacted by Rick Neuheisel at UCLA. Current coordinator Norm Chow has been on the hot seat for a while now. Borges held the same position in Westwood from 1996-2000. Of course, there's always the possibility Hoke could take his staff with him to Ann Arbor.
If Hoke and likely most of his staff leave, who replaces them? I like a name Nick Canepa brought up a couple days ago; Herm Edwards. The Aztecs have a great recruiting class lined up, but the commitments are only verbal until February, when letters of intent are signed. If Hoke leaves it'll take a guy with the same kind of fire to hang on to the athletes. Herm is that kind of guy. Plus, he's an Aztec alum, which never hurts. Plus, with Edwards press conferences would never be boring.