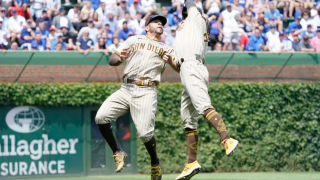 The San Diego Padres lost a baseball game Wednesday to the Chicago Cubs, and lost two players on a violent collision in the 4th inning.
The Padres lost the game by the score of 6-1, and shortstop Ha-Seong Kim and left fielder Tommy Pham weren't on the field to see the defeat through after a collision caused both players to leave the game.
In the 4th inning on a pop-fly to shallow left field, Kim ran back from shortstop, while Pham ran in from left field. Both players were chasing the ball and neither slowed down, resulting in a nasty collision with Kim's head hitting Pham's cheek.
Both players were knocked to the ground, as the ball did the same, however Kim did briefly get up and throw the ball back into the infield. After that, Kim went back to the ground and both players stayed down for almost five minutes. Eventually, Pham left the field under his own power, however he was not happy as he walked off. Pham could be seen yelling into the dugout, then later had to be calmed down and ushered into the locker room.
SportsWrap
The top sports headlines of the day
As for Kim, he remained lying on the field before being helped off by the training staff.
Padres manager Jayce Tingler said after the game that Kim is going through concussion protocol, although early indications are that he does not have a concussion.
Pham received stitches under his chin and will undergo a CT scan on his jaw when the team returns to San Diego.
Asked about Phams emotional response and the outburst in the dugout, Tingler said "We've got a passionate group and passion's a good thing. At times things are going to get heated. That happened, but passion is a good thing, competitiveness is a good thing. We'll move on and we'll become closer because of it."
When asked what factored into the collision, Tingler said the "language barrier" between Kim and Pham played a part, but admitted the team has to clean up its communication in the outfield, which has been an ongoing issue this season.
The loss to the Cubs was the final game of a three-game series that saw the Cubs dominate and win all 3 games. The Padres finished a 10-game road trip with a 4-6 record.
LISTEN: With NBC 7 San Diego's Darnay Tripp and Derek Togerson behind the mic, On Friar will cover all things San Diego Padres. Interviews, analysis, behind the scenes...the ups, downs, and everything in between. Tap here to find On Friar wherever you listen to podcasts.