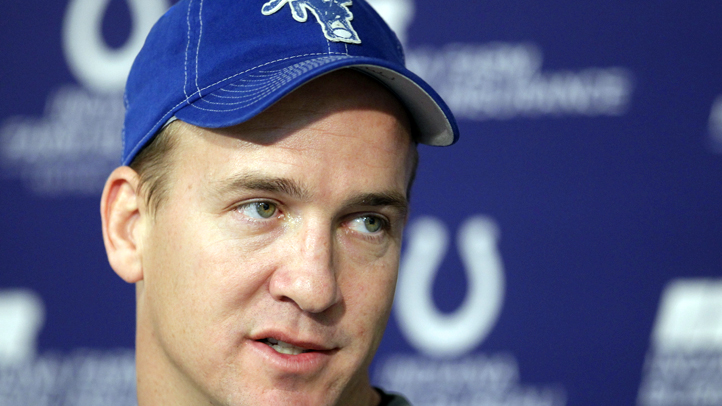 NFL Training camp season is always a time for irrational exuberance. Every team thinks it can win the Super Bowl, even though 31 of those teams will end being horribly wrong. And so, to preview the upcoming NFL season, which could be the most unpredictable ever, we now give you five reasons why your favorite team could win the Super Bowl. Today, it's the Indianapolis Colts.

1. Because Indy fans can always count on the reliable veteran that is... KERRY COLLINS?! I should have known Peyton Manning's neck injury was deathly serious when both Peter King and Tony Dungy declared this week that Manning was a lock to be under center in Week 1. Manning has never missed a start in his professional career, but he's come awfully close thanks to various nagging injuries over the years. No one quite knows when Manning will be back from his neck surgery, and the signing of Kerry Collins out of retirement makes it seem like the Colts know that it's more likely than ever that PeyPey could be sidelined at some point during the season. Sure, maybe he guts it out and starts in Week 1. But who knows what will happen after that. Collins' signing is a bad omen, because this team is nothing without Manning. It reminds me of this famous exchange between former Colts OC Tom Moore and an anonymous reporter back when Jim Sorgi was Peyton's backup:

Reporter – So you don't want (Sorgi) to get any practice with the first team, in case Peyton goes down?

Moore – Well, if Peyton goes down, we are (expletive).

Reporter – So why not give Sorgi some first team reps just in case he does?

Moore – Why would we practice being (expletive)?

As you can see, it's a difficult situation. However...

2. Peyton Manning will set his dad on fire before he lets anyone else start. If you can count on anyone to start with a busted neck and not show ill effects from it, Peyton would be your guy. As long as he's a Colt and as long he's not medically dead, this is a potential playoff team. And the Colts also have the obscene luxury of playing in a division which goes to great lengths to keep them in first place. Even if he plays only 10 games or so, Manning can probably still lead this team to nine wins and a division crown.

3. Austin Collie feels great! He really does! Peyton had to make on offense out of scraps of wood and twine last season thanks to injuries sidelining both Dallas Clark and Austin Collie. But Clark is back now, and Collie has already done the obligatory SI puff piece in which he declares himself totally healthy even though one more bad hit could force him to sit down for weeks, if not forever. With Collie and Clark in the fold, Peyton finally has his full arsenal back. Running back is still an issue with Joe Addai always getting hurt and Donald Brown failing to be consistent. But the Colts have always been a passing team under Manning, and they will be so long as that neck holds up.

4. The pass rush still rules. Dwight Freeney and Robert Mathis have been at this for a while now, and the Colts brought in a bit of line help (Tommie Harris and Jamaal Anderson) to give their bookend rushers more leeway to terrorize opposing QBs as they see fit. When this team works, it's with Peyton grabbing an early lead and then the rushers teeing off and forcing turnovers. All the pieces for that are still in place. Whether or not they hold up for a full year after all that mileage is another matter.

5. No more relying on the unreliable. Bob Sanders is finally gone, which means the Colts can't afford to play horrible defense until he returns to the lineup anymore. Between Peyton's neck and Collie's concussions and another year of Jim Caldwell staring off into space, surely this team is beginning to see its football mortality. They know their window is closing, rapidly. This is not the type of outfit to go quietly.