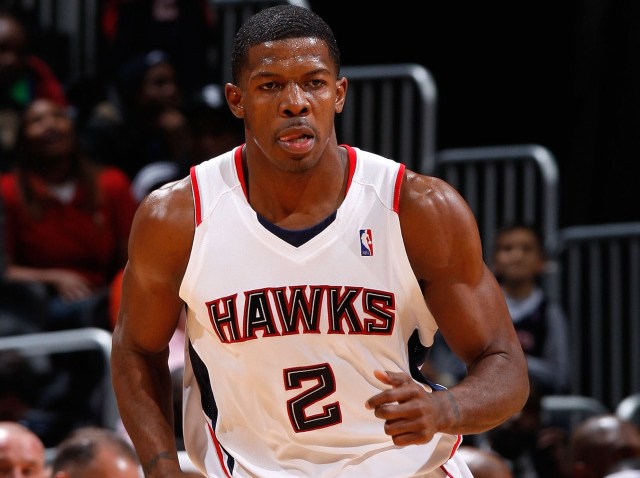 Through the first month of the playoffs, Joe Johnson is being offered as the cautionary tale of this summer's impending free-agent-free-for-all.
The Hawks guard hardly has cast himself as a max-level prospect, yet nonetheless will get his max money.
But to truly appreciate what comes next, and the impact of what comes next, is to look back at the damage of overspending that already has taken a profound toll in these playoffs.
A year ago, three contenders looking to take the next step in the postseason attempted to cash in.
By week's end, all could be cashed out, left only with salary remnants that make the equation that much more difficult moving forward.
The Spurs, for example, made a bold, and, in hindsight, misguided, move for Richard Jefferson, taking on the remaining $29.2 million on the forward's contract. Now, $15 million still is owed for next season (and, no, there is not a chance that the suddenly mid-level-worthy Jefferson will invoke his opt out by June 30).
Jefferson never fit in because Jefferson has never been anything unless point guard Jason Kidd has been at his side. Without point guard Tony Parker available full time, and with George Hill learning on the job, Jefferson was left to figure out the game on his own. He couldn't. Not after so many years of selfish ball. The Spurs did not prove to be the expected panacea.
While some, instead, have lamented the three-year, $14.5 million deal given to playoff no-show Antonio McDyess, the difference is the third year on McDyess' Spurs deal is only partially guaranteed. Take away Jefferson's money for 2010-11, and the Spurs could have space for a player.
Then there are the Hawks, Johnson's Hawks, a team that has defined second-round failure these past two seasons.
While the drama is whether Johnson will walk (he will), less appreciated is what Atlanta did last summer, when it tried to hold this all together, thinking it was primed for its next step.
Now? Now Mike Bibby has two years remaining on the three-year, $18 million contract he re-upped with last summer.
Clearly the Hawks appreciated they were at a crossroads, which is why Bibby's contract has a most unusual configuration, paying him $6.2 million for this past season, $5.6 million for next season, and then again $6.2 million for 2011-12.
Why? Because should the Hawks lose Johnson to free agency, it would maximize the Hawks' cap space this summer.
Yet considering how little Bibby has provided this postseason, one can only imagine how little will be left in 2011-12. In fact, reduced to its simplest form: Is there a single point guard in the Eastern Conference that Bibby can keep in front of him?
Certainly not Jameer Nelson, as we've seen this past week. And certainly not Brandon Jennings, as we saw for the two weeks before that.
As with the Spurs and Jefferson, the Hawks were living in the moment last summer, when they re-upped with Bibby. It was all about 2009-10. With a little bit more forethought, such money might have been better spent on the promise of a Ramon Sessions, for example.
And then there is Rasheed Wallace, and the three-year, $19 million deal he signed with the Celtics last summer.
If ever there was a player worthy of a one-year tryout, it was Wallace, who had fallen significantly off his game in recent years and essentially was cast aside last summer by the Pistons. Instead, Boston not only offered him three years, but also gave him an opt out for 2011-12, in case he actually managed to recapture his previous form.
Again, moving toward Wallace was not a mistake by itself. He certainly arrived with championship pedigree. But it was the years, committing two additional seasons to a player whose commitment seeming had wavered. The venerable Celtics had enough concerns about an aging roster.
Now what Wallace appears to do best is foul. A lot. It has gotten to the point where the best praise Doc Rivers can conjure is how Wallace has done an efficient job of protecting the paint with his length, when Glen Davis clearly has proven the more productive option.
There is, of course, nothing inherently wrong with living in the moment. The Spurs needed to retool after last season's first-round ouster, as an aging roster continued to age. The Hawks thought they were coming together, prepared to at least compete in a second round. And the Celtics, with Kevin Garnett moving closer to his former form, figured one last run with Ray Allen still under contract would be worthwhile.
Only now, the Spurs need to find a bridge to the future, with Hill, DeJuan Blair, and, perhaps, Tiago Splitter. It's almost as if Jefferson is in the way, a player who simply has not fit the system. As a one-year experiment, there was little downside. But now there is no escape.
In Atlanta, the Hawks may return next season resembling something far different, with coach Mike Woodson possibly to be gone from the bench, Johnson almost a lock to be gone from the locker room.
In each case, don't be surprised if the Spurs and the Hawks try to package those regrettable additional years as part of their revivals, with suitors for Tony Parker possibly also having to take Jefferson from the Spurs, and with those looking to sign-and-trade for Johnson possibly also being asked to take Bibby from the Hawks.
As for Wallace, in retrospect Leon Powe might have proven to be a lower-risk investment last summer. At least there would have been no-long term commitment due there.
It is one thing to take on a veteran on a one-year flier, as the Cavaliers did with Shaquille O'Neal, the Pacers did with Earl Watson, the Raptors did with Amir Johnson, the Celtics did with Marquis Daniels, or even the regrettable move the Wizards made with their 2009 lottery pick for Randy Foye and Mike Miller. At the stroke of July 1, all those mistakes can be erased.
When those moves don't work, there is no lingering stench. You simply try something else.
But Jefferson remains the gift that keeps on not giving in San Antonio. Bibby will continue to age exponentially in front of the Hawks' very eyes. And if Boston doesn't advance deeper this year than last year, Wallace will remain a presence the Celtics well might wish came with a mute button.
The lesson? When teams go to great lengths just because they have the financially wherewithal, sometimes the law of diminishing returns exacts a considerable toll.
Limited risk is one thing. Jefferson, Bibby and Wallace all were worth the gambles. But, now, there also is no escape.
Ira Winderman writes regularly for NBCSports.com and covers the Heat and the NBA for the South Florida Sun-Sentinel.
Copyright MSNBC - MSNBC