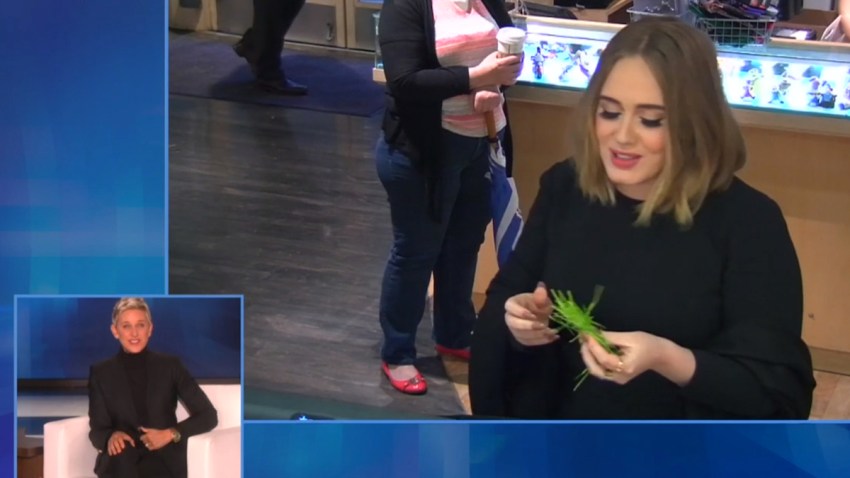 When it comes to keeping her cool, Adele is a bonafide expert.
She pulled herself together when her Grammy 2016 performance went awry due to a sound mishap. Now, she's showing off her improv skills all in the name of comedy.
After joining forces with Ellen DeGeneres, the award-winning songstress waltzed into a nearby Jamba Juice to give some staff members an encounter to remember. Unbeknownst to them, they were in for quite a show.
With the daytime talk show host feeding her a script in her ear, the British singer waltzed up to the counter to make a series of challenging requests. First off, she asked for a large juice, but in a small cup. We can't stop cracking up over the employee's eagerness to appease her.
After causing even more confusion while trying to pick out flavors to order, she made a beeline over to a plant of wheat grass on the counter. Scissors in tow, Adele chopped off a handful of sprouts on her own and, according to DeGeneres' instruction, stuffed them in her mouth on the spot. Even DeGeneres herself was crying from laughter.
Still, the situation was a gift that kept on giving. After announcing, "I feel like a deer in a forest," the "Hello" singer began to make a series of animal sounds loud enough for all to hear.
After munching, it was grooming time. Adele requested a quick hairbrush from her faux assistant Simone. Next, she pulled out a handy miniature bottle of alcohol from her purse and asked the barista to add a shot to her drink. When he explained it was against policy to do so, Adele took matters into her own hands and took a swig from the bottle herself.
"I've got the shakes. I haven't had a drink in hours," she explained.
When going to pay for the order, DeGeneres told Adele to dump the entire contents of her purse on the counter, which included some knives, a roll of Toilet paper and Twizzlers. You know, the essentials.
While we were all hoping for the spectacle to continue, the singer finally broke the news to the staff – it was all DeGeneres' doing.
"This is disgusting!" she laughed as she pulled a leftover wheat grass sprout from her mouth.
PHOTOS: Adele's Magazine Covers
READ: Adele and Lionel Richie Just Brought the Hello Meme to Life at the Grammy Awards
Copyright E! Online