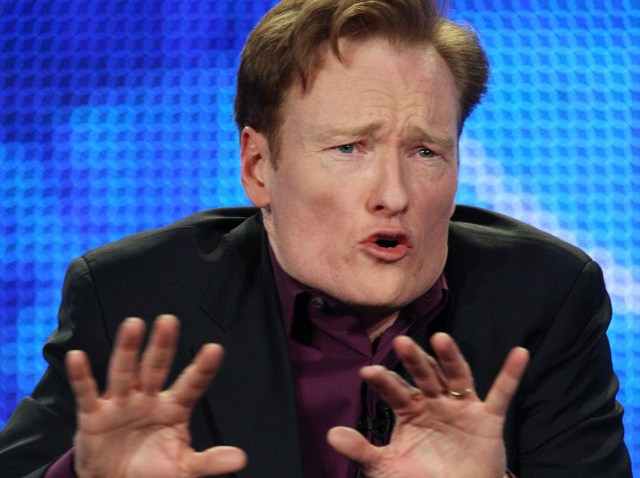 Levi Johnston has been vindicated. He's said some ridiculous things just never Tweeted them.
Conan O'Brien apologized on Thursday's "Tonight Show" for having aired a segment that mocked the father of Sarah Palin's grandson by drawing on unverified posts from a fake Johnston Twitter page.
But O'Brien didn't pass up another opportunity to take a shot at the teen dad, who is prepping for a nude photo spread in Playgirl magazine.
"I'd like to apologize personally to Levi Johnston and his lawyer and publicist for misrepresenting him in any way," O'Brien said. "Levi is clearly a great American. We wish him the best of luck as he trains for his upcoming naked photo shoot."
On Wednesday, the "Tonight Show" bit featured a deadpan William Shatner reciting the Tweets in question in beatnik verse while accompanied by bongos and a stand-up bass.
"Maybe I'm a genius and not even know it," the "Star Trek" actor said. "Maybe I don't exist and it only seems like I do. Maybe this is a parallel universe where I don't. Anybody know where I can get some good weed?"
Another gem: "Is it true that fat kids never get kidnapped?"
O'Brien said he woke up the next morning to learn that the posts were written by a "clever imposter."
"And the real Levi is very angry with us now," O'Brien said. "So angry in fact that he's taken his case to some of this country's most respected authorities for truth, including TMZ.com."
To make amends, O'Brein brought Shatner and co. back onstage to reprise the routine – this time by using only "lawyer-approved" Johnston quotes:
The first thing Sarah said to me a the hotel was, 'You gotta cut your hair.' I told her I didn't want to. I had a mullet at the time.

Guess what, I shot a big ass bear.

If Sarah wanted food, we'd get her something to eat like a crunch wrap supreme from [pause] taco bell.

You can't just do a movie. I'm sure it's harder that it looks.

I just get naked – that's what I do.
Think you'd be fooled by the fake Levi? Check out both bits: