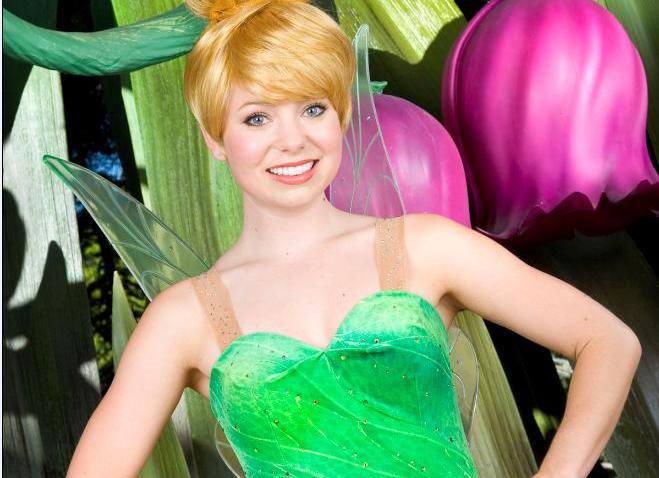 Tinker Bell who has evolved from a supporting character in the 1904 play ``Peter and Wendy'' to an iconic figure in the Disney empire, will receive the 2,418th star on the Hollywood Walk of Fame Tuesday.

Bradley Raymond, director of ``Tinker Bell and the Great Fairy Rescue'' will speak at the late-morning ceremony in near the El Capitan Theatre on Hollywood Boulevard, the Hollywood Chamber of Commerce, which administers the Walk of Fame, announced today.

The ceremony will be held the same day as the DVD release of ``Tinker Bell and the Great Fairy Rescue.''

Tinker Bell was described by author J.M. Barrie in the original play and novel as a fairy who mended pots and kettles. Her dialogue consisted of the sounds of a tinkling bell, understandable only to those familiar with the language of the fairies. She was generally portrayed as a flying point of light beamed from offstage.

Tinker Bell first became a Disney character in the 1953 animated film ``Peter Pan,'' depicted as a winged pixie with a very womanly figure. The depiction drew criticism as too sexually suggestive by Barrie purists.

Tinker Bell would later be featured in the opening of the long-running Disney anthology television series commonly known as ``The Wonderful World of Disney.'' She also flies through the sky over Disneyland every night in the summer to herald the evening fireworks.

Tinker Bell will join Big Bird, Bugs Bunny, Donald Duck, Godzilla, Kermit the Frog, Mickey Mouse, Rugrats, Shrek, The Simpsons, Snow White, Winnie-the-Pooh and Woody Woodpecker with stars on the Walk of Fame.
Copyright CNS - City News Service