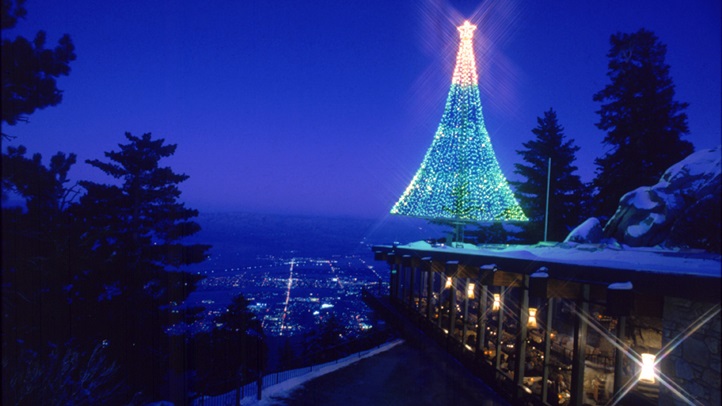 SO MUCH OF THE HOLIDAY SEASON... is about keeping an eye and ear out for the first festive signs of the holiday. Maybe you're listening for the very first carol played in a shop, or you're waiting for the first Christmas cookie to be sold at your local bakery, or you're craning to see if the giant wreath down at the corner car dealership is out on the sign yet, a sure indicator that December is in the house. Or, if you live in the desert, you're awaiting a colorful dot of light far up the side of San Jacinto, a dot or small streak that says one thing: The Palm Springs Aerial Tramway has officially opened to yuletide season.
IF YOU CAN SPY THE FIR, which isn't a real fir but a huge tree shape made out of 4,000 LED lights, then you are eating your carrots, for sure. The tree stands each December atop the restaurant at the tram's Mountain Station, a location that's over 8,500 in elevation (by contrast, the tram's Valley Station sits at just above 2,600 feet). But as you take a nighttime ride up, up, up the side of the hill, you can see the tree growing, and glowing, ever brighter. It's a brightest that's truly sparkly on the official night of the tree-lighting, which will ho-ho-happen on Sunday, Dec. 6. Palm Springs residents Lucie Arnaz and Laurence Luckinbill, know for their work writing, acting, and producing on stage and screen, will do the switch-flipping honors, and the Palm Springs High School Madrigal Singers will lend some lovely voices to the proceedings. The tree will stay lit through the holidays, and Mountain Station will see more good times, from choir appearances to the welcoming of Santa Claus.
SANTA CLAUS, by the way, will be right in his chilly element. It's already snowed at the station, and the tram's annual Guess the Snowfall Contest came to its annual conclusion on Sunday, Nov. 15. The reason? A measurable inch (and a half) of snow had fallen. Best bundle up if you're following the bright bulb-y tree to its way-high location, a location that can be spied throughout the valley below during much of each and every December.
Copyright FREEL - NBC Local Media