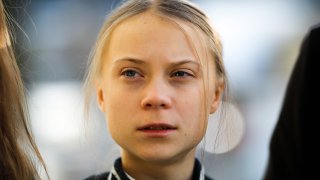 Teen climate change activist Greta Thunberg has responded to a graphic cartoon appearing to depict her being sexually assaulted after a wave of social media backlash against a Canadian oil company whose logo appears on the image, NBC News reported.
The image appears to show a nude young girl from behind while two hands grab at her braided pigtails. The name "Greta" appears across her back, and below her is the logo for X-Site Energy Services of Alberta.
On Saturday, Thunberg, 17, tweeted: "They are starting to get more and more desperate... This shows that we're winning."
NBC News did not immediately receive a comment from Doug Sparrow, the company's general manager. However, Sparrow told Canada's Global News that he was aware of the image but that his company was not responsible for it.