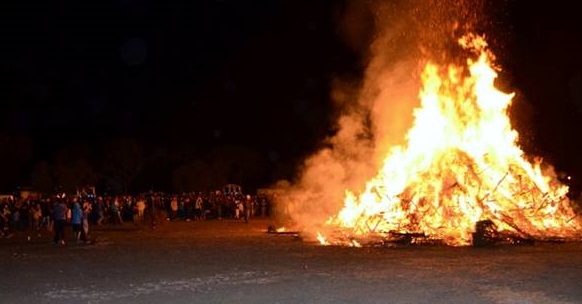 SAYING THAT... one holiday festival is like the next is as pretty wrong as pretty wrong can get. They're all a little different, even if most feature a tree and an ice rink and sugary treats and music. But, truly, some celebrations are stand-outs in the seasonal get-happy arena, and Solvang's Julefest is tops among them. It isn't just that the multi-week party honors a number of Danish traditions, or that there's a whole day devoted to s'mores consumption, or that wine plays a big, beverage-y part. (Spoiler alert: Solvang is deep in the center of Sant Ynez Wine Country.) It's that Julefest also ends with a bang, long after most Christmas confabs have wrapped, in the second week of January. Did we say bang? Perhaps "blaze" is more accurate. It's the Christmas Tree Burn, set for Friday, Jan. 10.
ON HAND... of course is the Santa Barbara County Fire Department, meaning that the annual gathering is "one of the largest fire safety demonstrations... on California's Central Coast." So it isn't just about the citizens of Solvang hauling their tree in and bidding it adieu, but about gaining good lessons from the professionals, too.
FREE NIGHT: Solvang reps call it a "powerful spectacle to ignite the New Year," and that's an interesting and ancient way to look at the proceedings. Bonfires have lit up many a winter night, through the centuries, and people have looked upon them in many ways, but often as a way to give light to a dark winter and welcome the year ahead. With SBCFD on board, and the final treats of Julefest for sale, and music to boot, consider the burn a safe and longtime way to say farewell to another season and hello to the brightness of the coming months.
Copyright FREEL - NBC Local Media