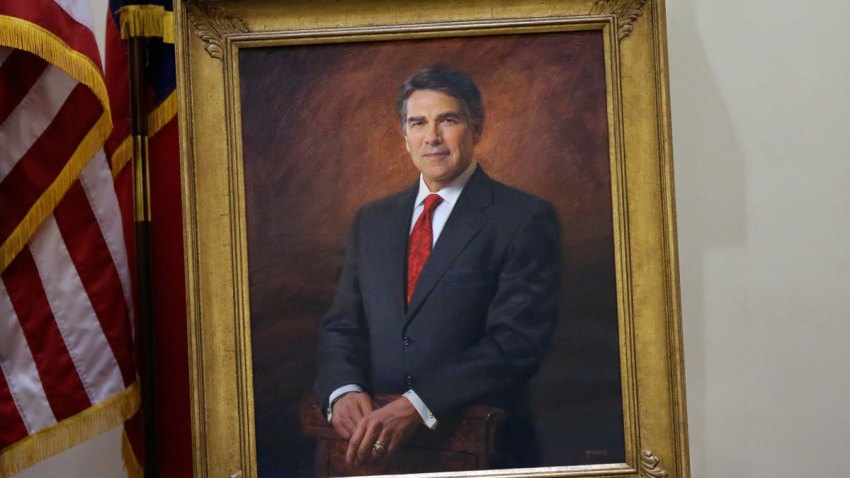 Ditching his now-famous black glasses Friday for his official Texas portrait, former Gov. Rick Perry is back looking like his old self but sounding far different when it comes to former presidential rival Donald Trump.
After the painting was unveiled at the state Capitol, Perry defended his enthusiastic change of heart this week about the presumptive GOP nominee. He had once called the billionaire businessman a "cancer to conservatism" but now says he'd be willing to work in a Trump administration, even as vice president.
Trump has made no such public overtures to the longtime Texas governor, who acknowledged he hasn't spoken to Trump in months. Perry was among the first 2016 contenders to drop out of the crowded Republican field, but his short-lived campaign attacked Trump harder than most in the early stages of the race.
"If Donald Trump says, 'Perry, let's talk about you helping in this role,' I'm open to it," Perry said Friday.
Trump, who once said that Perry only began wearing glasses so "people will think he's smart," tweeted "Thank you Rick!" after Perry's endorsement.
Perry didn't start wearing the thick-framed glasses until after his first failed run for the White House in 2012, when his campaign unraveled after famously stumbling in a debate and forgetting the name of a federal agency he would eliminate. But he spent most of his record 14 years as Texas governor without glasses.
Although he wore them to the ceremony Friday, the unadorned look is how Perry will be forever pictured in the Texas Capitol, where his portrait was hung next to former governors Republican George W. Bush and Democrat Ann Richards. Perry offered no explanation as to why he posed without glasses, but the choice seemed to delight one of his biggest political donors, billionaire Red McCombs.
"I bet a guy $500,000 that the picture wouldn't have glasses," McCombs told a gallery of current and former Texas lawmakers during the ceremony.
Perry shrugged off his previous criticism of Trump as the usual election-year rhetoric. Defending Trump's qualifications, Perry cited the billionaire's claims that he will surround himself with an experienced team if elected.
[[302756881, C]]
"I suggest that is a clear indication that he understands what he knows, understands what he doesn't know and is willing to bring people in and listen to," Perry said. "And I think that's the most important trait that he will have to exhibit. I mean, that has yet to be seen, but I feel comfortable that he will indeed do that."
In a Facebook post Friday, former presidential candidate and Florida Gov. Jeb Bush said he would not he will not vote for Trump in November, saying the presidency requires "great fortitude and humility."
"Donald Trump has not demonstrated that temperament or strength of character. He has not displayed a respect for the Constitution. And, he is not a consistent conservative," he said."
Bush also said he would not support Hillary Clinton, who he called an "untrustworthy liberal politician."
Earlier Friday, Lindsey Graham said he "cannot in good conscience support Donald Trump because I do not believe he is a reliable Republican conservative."
The South Carolina senator, who was one of Trump's harshest critics during the campaign, said on Twitter Friday he will support neither Trump nor Clinton and will skip the GOP convention this summer.
Tryump did receive an endorsement from former senator and 1996 Republican presidential nominee Bob Dole.
Copyright AP - Associated Press