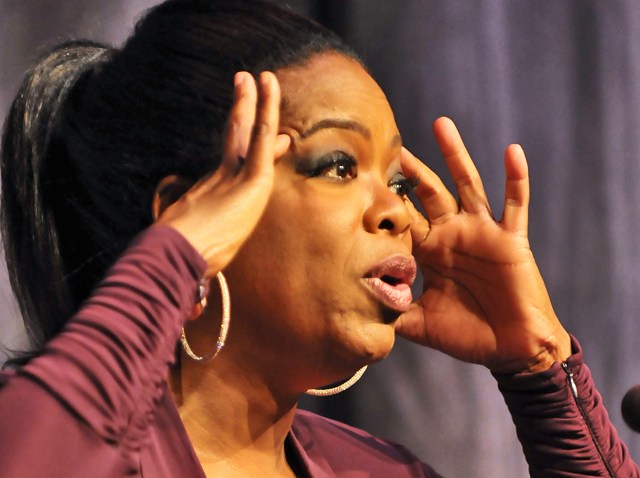 Oprah Winfrey has ruled daytime television for so long now that it's hard to imagine her ever leaving. In fact, it's hard to imagine Oprah ever dying, or aging. I'm all but certain that she's impervious to bullets, insect bites, and bladed objects. Everything but Milk Duds, really.

But all television stalwarts have their expiration date, and Oprah is no different. Despite still raking in zillions of dollars on an annual basis, Deadline's Nikki Finke is reporting that Winfrey will be moving her daily syndicated show to her own cable network (the humbly titled Oprah Winfrey Network) in 2011:
Discovery Communications chief David Zaslav has demanded that Oprah "move it or lose it" -- move her talk show to OWN, or risk losing the Oprah Winfrey Network altogether. I've learned that in coming days Winfrey and Discovery will issue a press release announcing OWN's on-air launch for the start of 2011. And, in several weeks, Oprah will tell the public that she's ending her syndicated Chicago-based daytime talk show when her current deal runs out and moving it to OWN headquarters in Los Angeles probably as soon as mid-2011…

In the U.S., Oprah is viewed by an estimated 7 million people a day (though that audience has fallen by half over the past 10 years) and in 140 countries. It has been estimated that she currently earns about $275 million a year in showbiz income.

So not only will Oprah be changing networks, but she'll also be changing locales, broadcasting from LA to give daytime viewers her patented mix of free cars, Toni Morrison book recommendations, and doting interviews with her celebrity bowling friends.

Now, Oprah is a much smarter human being than you or $2.3 billion smarter, to be precise. Still, this is a baffling move for a couple of reasons. For one thing, why would Winfrey feel the need to set up her own cable network when she's already launched one successfully (She co-founded the Oxygen network, which sold to NBC Universal in November 2007 for a healthy $925 million)? And she was able to do that without having to move her show. Secondly, despite massive gains by cable in recent years, network TV still has the broadest reach of any television medium. A move to OWN would almost certainly cost Oprah viewers. And for what? Extra money? She's already rich beyond the scope of imagination. Winfrey has always struck me as someone who is far more interested in her platform to communicate than her net worth. Why she would willingly shrink her platform like that (as Howard Stern did when he moved to satellite radio, or the NBA did when it moved much of its TV coverage to cable) is difficult to figure out.

Furthermore, ask any big name TV star if moving out of your comfort zone is necessarily a good thing. Jay Leno moved to 10 p.m. and has openly said he'd be willing to take his old job back. Katie Couric would probably auction off a leg to be back on the Today Show. We love TV stars not just for who they are, but because of the role and setting in which we've grown accustomed to viewing them. Once that shifts, the results can be awkward and lacking in spark. Plus, Oprah's moving to LA. Nothing good ever happens when people move to LA. They grow aloof. They stop returning your calls. And they're always bragging about the quality of their orange juice. LA makes you smug, and that's not a good thing for Oprah, given that many viewers have already soured on her political grandstanding and breathtakingly idiotic celebrity medical advice.

Then again, this is Oprah. She is very smart, and very rich. So perhaps she knows something you and I don't. In fact, I'd count on it. I'd count on her eventually ruling us all one day, sooner rather than later.