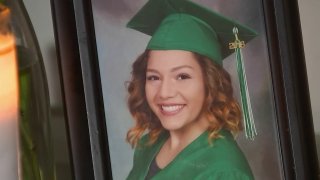 Alice Mateus can't believe her daughter Mirelli is no longer with her. The 24-year-old was murdered, allegedly at the hands of her ex-boyfriend, who is already behind bars.
"I don't understand how a monster of that nature took the life of my little doll," her mother told Telemundo 52.
Mateus remembers her daughter as the angel that God gave her and who changed her life forever. Mirelli was about to graduate as a nurse.
"It was a miracle in our lives, both in my life and in my older daughter's," Mateus said. "She came to light up our lives."
The young woman was killed on Friday and authorities arrested her ex-boyfriend that same day as a suspect in the crime. The man was identified as 36-year-old Aaron Romo, who had been dating Mirelli for about eight months, according to her mother.
Romo was charged this week with murder. The charge includes a sentencing enhancement for committing an offense while out of custody on a separate case.
Mirelli's mother was the one who found the lifeless body. When her daughter didn't come home, she went to Romo's apartment, where she made a horrifying discovery.
"I see my daughter's bag and I push the door," Mateus said. "There she was. She was dead."
Mateus was heartbroken, but she points out that Mirelli had been dead for at least 12 hours. Some neighbors reported hearing her screams for help, and although the police arrived at the scene, they did not enter the apartment.
"My girl was no longer heard. They arrived and they weren't even able to enter the apartment, when they are being told that a girl is screaming," Mateus said. "They failed my girl. They failed her and I want justice."
Mateus also points out that Romo had a violent encounter with police last December in the same apartment where he allegedly murdered her daughter.
Romo was arrested in the Riverside area. He faces murder charges and remains in custody without bail.
However, the authorities think that he may have assaulted other women in the past. That is why they are asking potential victims to come forward.
Romo, who is being held without bail, made his first appearance in court Tuesday when his arraignment was rescheduled for Thursday in the jail courtroom in Santa Ana. It was not immediately clear whether he has an attorney who can speak on his behalf.