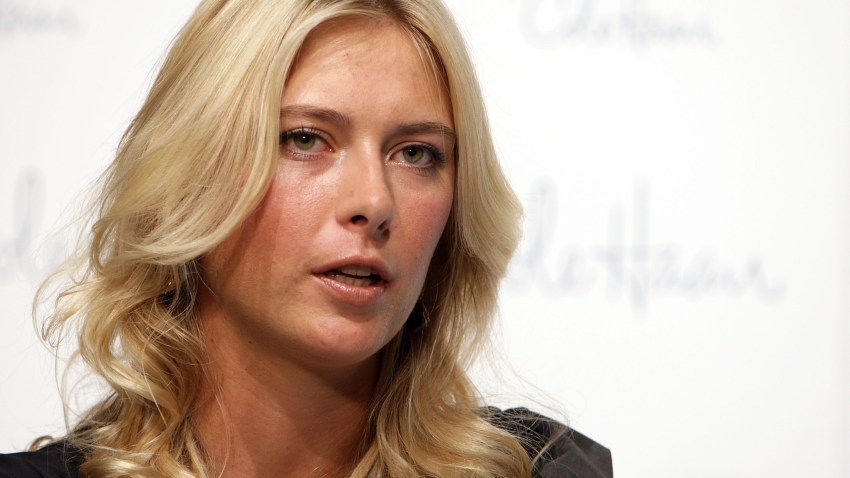 Sasha Vujacic's ongoing slump has drawn the ire of Lakers fans — Sunday night he hit his first shot in a game since the conference semi-finals last June against Denver.

But off the court, his game is in top form.

Vujacic and tennis star Maria Sharapova were seen "cuddling" at the recent U2 concert at the Rose Bowl. Apparently the pair are now dating, according to several reports.

Who broke this story? CNBC sports business reporter Darren Rovell. Take that Harvey Levin.

Apparently Vujacic wants a few of those headlines — not to mention paparazzi cameras — that have gone to teammate Lamar Odom since he married Khloe Kardashian. Then there is word Kobe's wife Vanessa may join the cast of The Real Housewives of Orange County. Soon there will be more entertainment reporters than sports reporters in the Lakers locker room.

Lakers coach Phil Jackson deserves some credit for this relationship — he told Vujacic to cut back the shaggy mop haircut look Vujacic had gone with last year. During preseason Jackson quipped, "I think Sasha played with his hair more than he played on the court (last season)." Vujacic showed up to camp with a new look.

Let's hope dating a starlet has the same effect on Vujacic it has on Odom. Known as an inconsistent player, Odom has played with a new level of confidence and comfort this season. His assists are way up, he is initiating the offense for the Lakers in a way he struggled to last year, and his jump shot is much better than it was. Maybe it was winning a ring. Maybe it was a new offseaon training regimen of boxing. Or maybe it was Kardashain that brought Odom around.

Sharapova knows how to win and perform under pressure — she is a former world number one with three grand slam titles under her belt.

The Lakers don't need all that, they just need Sharapova to get Vujacic to be "The Machine" again. Can she teach three-point shooting?
Kurt Helin lives in Los Angeles where he is runs the NBA/Lakers blog Forum Blue & Gold (which you can also follow in twitter).
Copyright FREEL - NBC Local Media