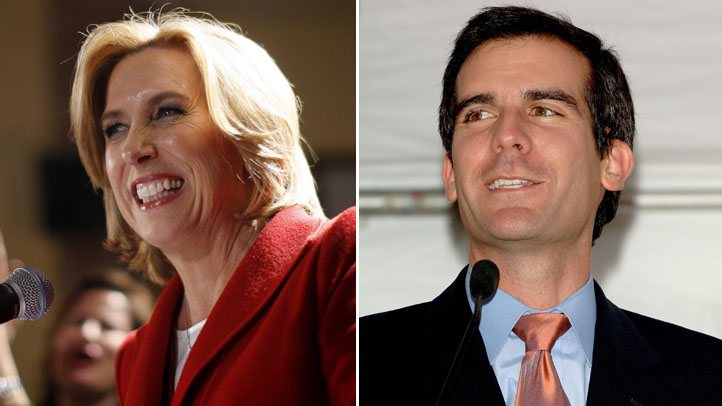 The race to become LA's next mayor was tight Tuesday night with City Councilman Eric Garcetti leading by a slim but swelling margin.
With 44 percent of the precincts reporting as of 12:55 a.m., Garcetti had garnered 54 percent of the vote. His opponent City Controller Wendy Greuel had netted 46 percent of the vote.
The winner of the run-off election to replace outgoing Mayor Antonio Villaraigosa will give the city of Los Angeles either its first female or first Jewish mayor—a leader who will inherit a city still struggling to pull itself from an extended fiscal slump.
The contest to succeed Villaraigosa, who leaves office at the end of June with high marks from his constituents, broke spending records Saturday as outside contributions topped $33 million.
Although the race was too close to call, Garcetti was optimistic as he addressed his supporters Tuesday night.
"If this (lead) holds, and it looks like it will, on July 1, we will assume the responsibility of creating jobs, of balancing the budget, of keeping the streets safe, and of improving the quality of life for all Angelenos," he said.
Refresh this page for updates and watch Today in LA for the very latest on the election results.