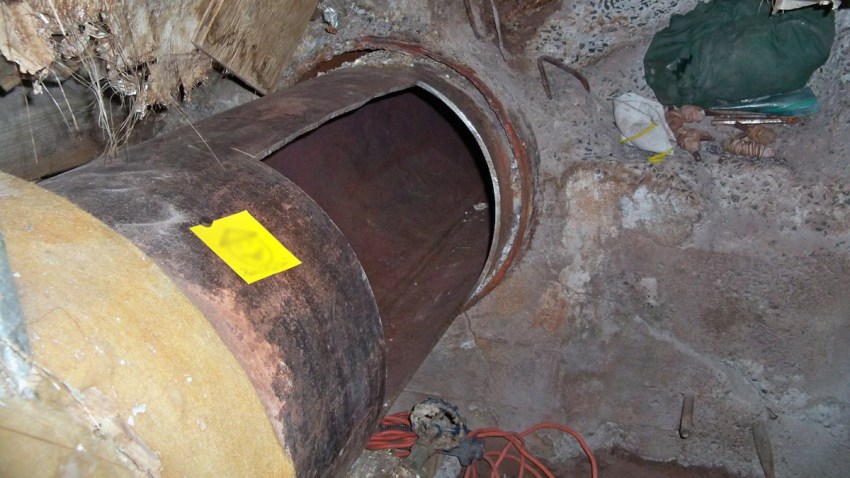 A licensed engineer who has done work at the Clinton Correctional facility in Dannemora where two killers escaped last weekend said the work of cutting through a cell wall and a steam pipe was done with a high degree of professionalism.
Larry Jeffords, owner of Jeffords Steel and Engineering in upstate New York, told The Associated Press that convicts David Sweat, 34, and Richard Matt, 48, were either very proficient with the tools they used — or they had help.
"It tells me either they are very good at what they do, with a lot of good training. Or they had very good equipment. Or somebody else cut the hole for them," said Jeffords, whose knowledge of the escape is only based on seeing photographs released by the media.
During the breakout, Sweat and Matt used power tools to cut through steel and bricks and crawled through an underground steam pipe, emerging from a manhole outside the 40-foot walls of the maximum-security prison about 20 miles south of the Canadian border, authorities said.
Prison officials found the inmates' beds inside the 150-year-old Clinton Correctional Facility stuffed with clothes on Saturday morning in an apparent attempt to fool guards making their rounds. On a cut steam pipe, the prisoners left a taunting note containing a crude Asian caricature and the words "Have a nice day."
Authorities suspect the inmates also had help from the inside in obtaining the power tools. Guards and other staff members have been questioned, but no one has been disciplined or charged.
A corrections department employee told NBC News inmates at the prison looked for the "weakest links" among the staff in an effort to exploit them for preferential treatment and that the "grooming" has become more of an issue than prison workers would like to admit. A former Clinton guard said any employee who showed compassion could become a target of the manipulation, mostly done to gain extra recreation time, newspapers and food.
Jeffords said that when he worked at the prison he was subject to daily searches entering and leaving the facility. A guard never left his side and all the equipment was inventoried at the end of the day, he said.
The cutting of the cell wall and steel pipe would have taken about four hours of continuous work, Jeffords said. He also said he couldn't believe that no one heard the noise or saw the sparks when the men cut through the steel.
"I'm assuming it was a grinder, and then you were to start that grinder and (begin) cutting your way out. The grinding dust is tremendous — sparks, smoke," said Jeffords.
"To do that with a grinder and to do as nice a hole as they did, I just can't see it done. I'm in the steel business and I've said before I could have sent my best man up there with an acetylene torch or a plasma cutter and I couldn't have a better hole," Jeffords said.
Contractors have been doing extensive renovations at the 170-year-old prison, a hulking, fortress-like structure that looms over Dannemora's main street.
Sweat was convicted in the 2002 killing of a sheriff's deputy and was doing life without parole.
Matt was serving 25 years to life for kidnapping, torturing and dismembering a former boss in 1997, and had also been convicted of killing a man in Mexico while on the lam following his boss's death. He had previously escaped from prison, in 1986, and was deemed so dangerous that during a trial for the 1997 slaying, snipers were stationed atop roofs around the courthouse.
Law enforcement officials are urging for the public's help in reporting anything unusual in the area since the prison break. A $100,000 reward has been posted for information leading to the men' capture.
Copyright AP - Associated Press