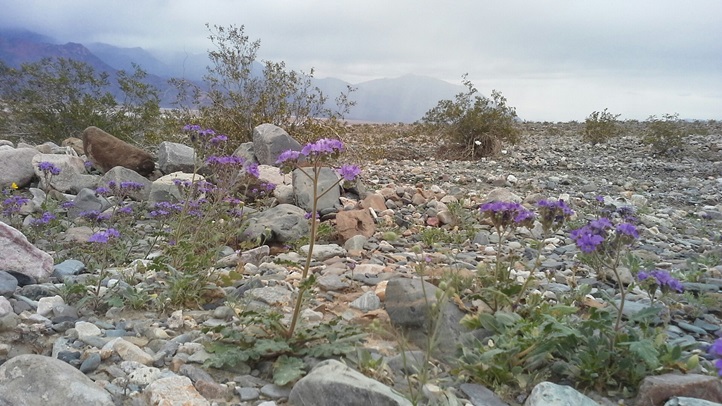 APRIL SHOWERS BRING MAY FLOWERS... but what happens when a famously dry stretch of California gets a drenching dose of autumn rain? What could happen, and is looking nicely likely at the moment, is a big showing for the springtime flowers of Death Valley. These aren't any normal flowers, mind you. They're not magic and they don't sparkle but they are colorful petals that pop up in some of the scrubbiest, most arid landscape that this planet, and possibly any other, has to offer. That means a whole bunch of fans, from the Golden State and beyond, make the trek to the remote national park each March and April to admire the purples and pinks and yellows and blues and all the beautiful dabs of color that stand out against the earthy hues of the desert. Some years the flowers are sort of here and there, and a photographer or day-tripper can find themselves shuttling around great distances to find even a few buds. But then there are years, like 2005, when full "fields" of Death Valley get riotous with floral color (and when we say "riotous" we mean desert-style, so a little sparser than greener places but still pretty dang phenomenal). And it is looking like, early on, just maybe, 2016 could be closer to 2005's big bloom than the lighter blooms seen in recent years. In fact, it could just be a...
"SUPER BLOOM": That's the word from Death Valley National Park, posted on Oct. 7. A recent bout of autumn rain is just what a desert wildflower-to-be is thirsty for, and that's what the area has experienced in 2015. We're not saying to run out and book your late March Death Valley room just yet -- oh, heck, maybe we are, because even if there aren't wildflowers you'll be in one of the most visually astounding places in the solar system, and that's a fact. But chances are good that springtime will bring some showiness in the flower department, thanks also to what the ever-growing El Niño might deliver. C'mon, Super Bloom!
AND WE TAKE IT BACK... that "fields" of flowers in Death Valley are not "riotous" with color. They absolutely can be. They're living proof that a spread of gorgeous petals don't always require grass to get going. Making the Death Valley flower showing, in the spring, one of nature's loveliest and seemingly unlikeliest gifts.
Copyright FREEL - NBC Local Media