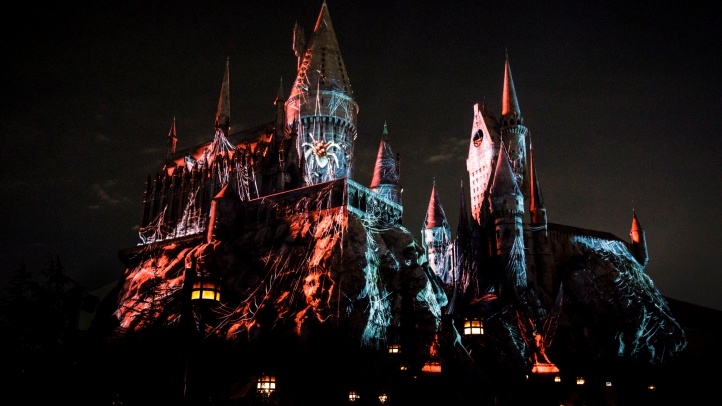 What to Know
Universal Studios Hollywood
The Wizarding World of Harry Potter
June 22-Aug. 11, 2019
SUMMERTIME? As in the heart of the middle of the center of the season? It's just so very... warm. And occasionally sweaty. Oh, it is incredibly bright, all righty, and saying the heat is hot doesn't go nearly far enough. But what if there was a destination, one possessing an eerie aura, that you could visit on a summer's night, all to enjoy the sort of thrills typically associated with autumn? Even as the sunbeams continue to shine forth on the hottest of summertime days? Oh, there shall be, dear wizards, and it involves one of the most storied castles in all of the Golden State. Of course, we are about to point our wand in the direction of...
THE WIZARDING WORLD OF HARRY POTTER, at Universal Studios Hollywood, which is home to the enchantingly imposing Hogwarts Castle. Indeed, that's the very spot where a much buzzed-about springtime projection show took place, over a few magical evenings in April 2019. And while "Dark Arts at Hogwarts Castle" is due to briefly pop up again over Memorial Day Weekend, there were no further dates given on the special event's calendar. But a magical intonation was clearly spoken by some powerful mage, for the theme park revealed on May 23 that...
DARK ARTS... will return from June 22 through Aug. 11, 2019. Indeed, this is the "... mesmerizing display of light, music and special effects that unleashes the dark creatures and villains within 'The Wizarding World of Harry Potter,'" and you can bet you'll see Dementors and Death Eaters both. Not to mention a host of other "unspeakable creatures," with Mountain Trolls and other baddies making cameos. Adding to the skin-tingling thrills? The cinematic musical score recorded by the London Symphony Orchestra, which further brings the fright-filled scenes on the side of Hogwarts to dazzling life. But can a Patronus spell save Wizarding World from this evil onslaught? The experience's ending sparkles with ethereal magic and surprise.
SPOOKY SUMMER SPECTACULAR: Ready to add some scares to a span that's known for sunshine? Your ticket to Universal Studios Hollywood is all that's needed to enter The Wizarding World of Harry Potter. Here's something full of wizardry: The California Neighbor Pass, which is open to all of Universal's neighbors, near and far, is currently $149. It includes over 175 dates to choose from, including several non-blocked dates during the "Dark Arts" run. Check that calendar now.
Universal Studios Hollywood and NBC-owned TV stations operate under the same parent company NBCUniversal.
Copyright FREEL - NBC Local Media