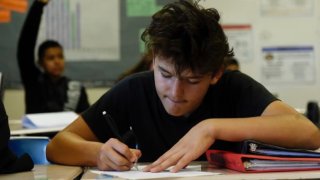 Hate Mondays? Maybe you should consider moving to Colorado. A school district in the Centennial State has canceled school on Mondays in favor of a four-day school week.
But Garfield-like attitudes is not why school district 27J, located outside Denver, made the decision. The district, which serves 18,000 students in Brighton, Commerce City, Henderson, Thornton and Aurora, believes that the shorter week will cut costs by roughly $1 million in the first year.
By not having classes on Mondays, the school district will only need to pay for services like school buses and substitute teachers four days out of the week.
District 27J public information officer Tracy L. Rudnick tells CNBC Make It that the district expects for these savings to increase over time as administrators find new ways to improve efficiency.
"[One million] is a small portion of our overall operating budget, but we anticipate as we continue down this path additional savings will be seen year after year," says Rudnick. "We have been able to put a counselor in every elementary school and roll out our One-2-Web program which puts a Chromebook in the hands of every middle and high school student."
In a statement, Superintendent Chris Fiedler confirmed that the decision was widely influenced by the district's financial realities as well as the need to attract and retain teachers in the district.
"In the context of our financial reality, we must be increasingly strategic in allocating our resources (including our use of time) to the priorities that matter the most for our students and their learning," he writes. "A prepared tomorrow begins with the best teaching and learning today — and that requires attracting, retaining and developing the best teachers and support staff so we can deliver on our mission."
According to Rudnick, 27J is among the lowest funded school districts in the Denver-metro area, making it difficult to keep high-quality teachers. "We have had years when we have lost over 15 percent of our teaching staff because they can make $10,000 more in a neighboring district," she explains.
Indeed, in April, thousands of teachers in Colorado walked out of their classrooms in protest of low wages and low school funding.
While the school district may save some money with the new initiative, parents of young children may have to spend a bit more on child-care. The district plans to provide all-day child care services on Mondays for $30 a day per student in order to help families with parents who work on Mondays.
This story first appeared on CNBC.com. More from CNBC:

Copyright CNBCs - CNBC